Shannon Staffing, Inc. Is Acquired by Scout HQ, Inc.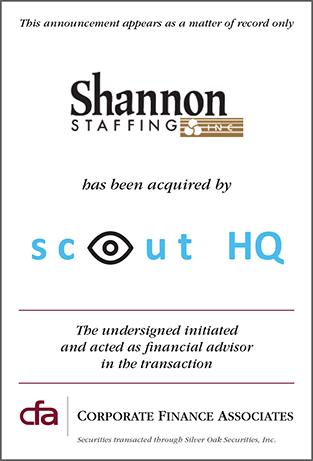 Los Angeles
, CA - May 16, 2018 -
Corporate Finance Associates
(CFA) a leading middle-market mergers and acquisitions firm, announced it initiated and acted as exclusive financial advisors to Shannon Staffing, Inc. in its recent acquisition by Scout HQ, Inc.
Founded in 1985 by Edward and Sheryl Seitz, Shannon Staffing specializes in providing staffing services to light industrial businesses in East Central Ohio. As a former member of the HR team at General Electric, Ed Seitz created a company with a laser focus on "partnering" with clients to solve their staffing issues. This approach has resulted in long term client relationships and best in class customer service.
"It has been a pleasure working Ed and Sheryl Seitz. Shannon and Scout HQ are excited about the synergy that a merger of the two organizations brings" said
Brad Lindsay
, Managing Director of
CFA Memphis
.
Transaction Information
On April 30, 2018, Scout HQ acquired Shannon Staffing, Inc. in a private transaction. The terms were not disclosed. Financial representation was provided by Brad Lindsay of Corporate Finance Associates.
About Corporate Finance Associates
Corporate Finance Associates
is a major investment banking services firm, with offices across North America and India, and partner offices in Europe, Asia and South Africa providing middle-market companies with a wide range of financial advisory services and access to capital resources. From project inception to completion, a senior principal guides clients through every challenge, advocates on their behalf, and leverages CFA's experience and extensive resources. More information is available via the Internet at
www.corporatefinanceassociates.com
.
Email Corporate Finance Associates