World first Crypto Games conference featured over 25 speakers and non-stop networking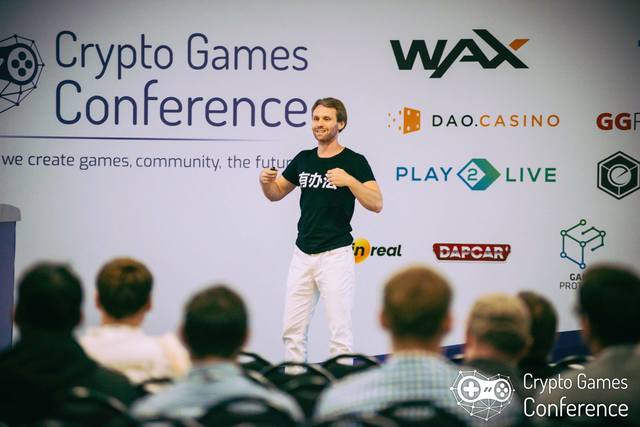 Participants from more than 20 countries: the USA, Canada, China, South Korea, Russia, Belarus, Germany, France, Japan, Ukraine and others attended the event.
Crypto Games Conference presented a broad variety of talks and panels in two summit tracks, dealing with three themes in depth:
Blockchain based games (СryptoKitties, Dragonereum, Spells of Genesis, and others)
Game services using blockchain or cryptocurrencies (Alto io, BitGuild, Decentraland, and more)
Gaming using blockchain or cryptocurrencies (DAO Casino, True Flip, EtherSport, etc.)
Experts from leading companies such as WAX, AxiomZen (developer of CryptoKitties), PUBG, WAVES, DMarket, Play2Live, RAWG, Fitify and many more visited the first edition of Crypto Games Conference this May.
"We can say with a complete confidence: the world's first Crypto Game Conference was a success! - says Evgeny Lavrinenko, co-founder of Crypto Games Conference. "We, as an organizers, are happy to gather in Kiev such a big audience of C-level representatives from the most important crypto gaming companies and ICOs. Thank you all for participating! Our next goal is even more ambitious - to host a two-day conference in Minsk in October 2018. Preparations are already started. Our attendees and expect a broader set of attending companies and even more interesting talks and networking events."
Open for public access is the large collection of official CGC photography linked at this FB account here:
https://www.facebook.com/pg/CryptoGamesConference/photos/
.
Keep an eye out for CGC first call for speakers and exhibitors opening up soon!
https://cryptogames.events/
For more information and announcements please follow CGC FB page:
https://www.facebook.com/CryptoGamesConference/
Or Telegram group:
For any questions please contact:
hello@cryptogames.events