LeGrand S. Redfield, Jr. CLU, ChFC, CFP® Achieves professional designations of Accredited Wealth Management Advisor (AWMA®) and Chartered Retirement Planning Counselor (CRPS®)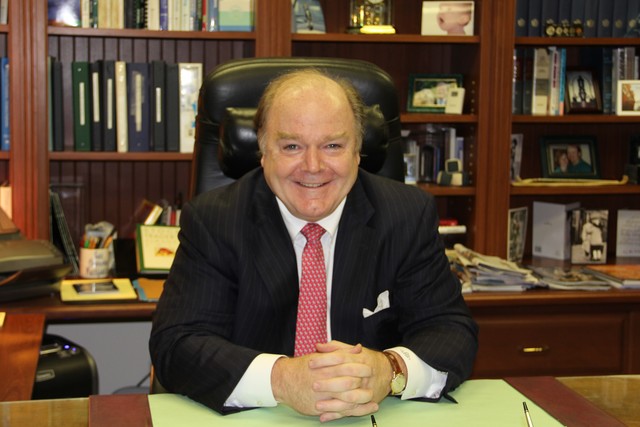 Asset Management Group, Inc. of Stamford, CT is pleased to announce that LeGrand S. Redfield. Jr. the company's President and founder, has successfully completed the College for Financial Planning's coursework to achieve the designation of both Accredited Wealth Management Advisor (AWMA®) and Chartered Retirement Planning Counselor (CRPS®).
Lee, as he is known to his clients and friends, has been involved in the financial industry for the past 39 years, assisting clients in the development and implementation of strategies to achieve their financial goals. Lee is known for his commitment to 12-hour days, six days a week, to accomplish his clients` goals and expectations. By matching individual situations to the most suitable alternatives, he seeks to help each client achieve his or her goals through a focus on financial planning, asset allocation, risk management and retirement planning. Whether the prospective client is a highly successful professional, business owner, physician or retiree, Lee utilizes his knowledge and expertise to develop a comfortable approach to achieving financial security and control. In addition to being a Life Underwriter Training Council Fellow (LUTCF), he continues his education with classes in financial planning and risk management, currently working towards a Master of Science in Personal Financial Planning.
The AWMA® program is designed for advisors who want to better address the unique needs of high net worth clients. With this designation an advisor is able to help clients capitalize on opportunities to preserve, grow, and transfer their wealth. It enhances the abilities to optimize clients' investments to achieve their goals while minimizing investment volatility. The program contains sections dedicated to behavioral finance, working with small business owners, and succession/exit planning. There is also an entire module specifically dedicated to the fiduciary and regulatory issues facing advisors.
The CRPC® designation is the industry-benchmark for retirement planning credentials and is encouraged by the top firms in the industry. Financial advisors face an increasingly complex onslaught of retirement planning questions as aging baby boomers look for investments to meet their lifestyle needs in 10 years, 20 years, and beyond, as well as determining when they can actually retire. These clients demand a high level of knowledge from their advisors. This program is designed to help define a "road map to retirement," enabling advisors to focus on clients' pre-and post-retirement needs, as well as issues related to asset management and estate planning.
Asset Management Group, Inc.,
www.AMGplanning.com
, was founded in 1983. The financial planning practice is a dynamic, privately held company with a well-established customer base. The firm builds long-term relationships with clients and provides them with financial planning advice and counseling. The company is proactive in bringing information and advice to its clients and strives to provide services that exceed their client's expectations.
College for Financial Planning, Founded in 1972, the College for Financial Planning provides accessible and flexible degree, non-degree, and continuing professional education programs to students nationwide. Shortly after its founding, the College introduced the CERTIFIED FINANCIAL PLANNER™ certification, which has evolved into the world's most recognized and respected financial planning credential, with more than 65,000 professionals in the U.S. having earned the credential. In addition to its CFP® Certification Professional Education Program, the College offers two graduate degree programs that provide more in-depth knowledge of the finance industry. The College for Financial Planning is accredited by the Higher Learning Commission and is a member of the North Central Association. More than 155,000 students have graduated from the College's programs.
Email Asset Management Group, Inc.