Get excited: a hot new LitRPG series by Litworld digital publishing house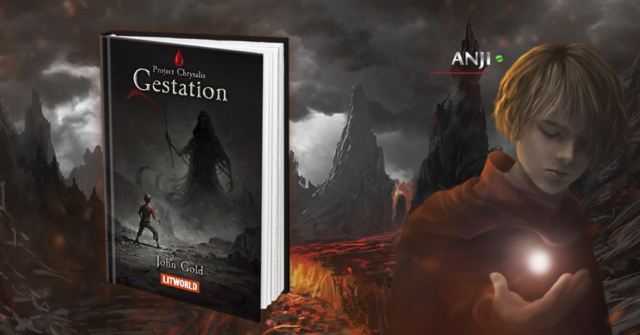 An orphan caught in a cruel game of gods - will he be strong enough to fight back?
This is a story of what happens if a little insignificant cog in a master plan of gods appears to be more determined and stubborn than anyone thought. The main character, a 12-year-old boy named Anji, is ready to fight for his happiness no matter what it takes.
Now all English-speaking readers can join the crusade of Anji: the first book
Project Chrysalis: Gestation
by
John Gold
has been released on Amazon on the 22nd of May. Popular in its motherland of Russia, this LitRPG series is now available for everyone. Readers will be able to follow the main character on his destructive and vengeful way through the virtual world of
Chrysalis
. Betrayed, for the sake of someone else's master plan, he appeared in the most hopeless place of
Chrysalis
. It is full of ash, despair andů possibilities? Sagie, Anji's in-game username, fueled by homesickness and revenge, will literally go through Hell and face what is hidden in the darkest corners. The road will be long and difficult, but those who can, do.
Face Death itself, hide from deadly guards, conduct dark rituals and use forbidden death magic - enjoy the process of demonification.
Set in the distant future,
Project Chrysalis
carefully combines Sci-Fi and Fantasy Medieval settings. Both worlds - in-game and the real one - are thoughtful and fascinating, one full of futuristic space technologies, another - with magic and swords.
Project Chrysalis: Gestation
is not just another LitRPG book. No chosen ones who are talented at everything or extraordinarily handsome and joking fictitious characters. All personages of
John Gold
are living, with their thoughts, dreams, fears, and weaknesses making them more relatable. It is a story of human happiness and its price, about hardworking and suffering on the road to a dream.
John Gold
has built a serious, dark, fair world.
Litworld digital publishing house has already launched a preorder for the second book Project Chrysalis: End of an Era, the release date is June 26th.
Among the themes that
Project Chrysalis: Gestation
explores:
The road to the dream and where it leads one
Wounded child's soul and psychological issues
Total misunderstanding of others
Questions of morality
Social adaptation and entering a world of adults as a child
Role of a family in child's life
And much more
Innovative Russian digital publishing house, Litworld, brings us this compulsively readable new series perfect for every young adult, teenager, gamer and just a fantasy fan. Litworld's mission is to bridge a perceived cultural gap while making the best and most beloved Russian literature available to the world for enjoyment.
About John Gold
: He is a Russian author who has invested his entire soul into this series. Both the most mysterious and beloved in Russia, his enormous fanbase confirms the sudden yet long-term success of Project Chrysalis. His primary purpose was to create a fair and reasonable story of a boy, who has to start his way with bare hands. John Gold proves that hard working is that what helps to reach your dreams. As a devoted fan both of gaming and reading, he was able to create a most breathtaking LitRPG story.
About Litworld digital publishing house:
Litworld is an innovative digital publishing house whose mission it is to bring fantastic Russian literature to English-speaking markets. Beginning with fantasy and branching out to modern Russian prose, teenage adventure literature, erotic romance, finance, psychology, and more, Litworld translates bestselling Russian authors and introduces their work to the world.
Learn more at http://litworld.com and follow Litworld on Facebook, Twitter, Instagram, and YouTube.
Litworld titles, including Project Chrysalis: Gestation, are distributed in America via Ingram, and available for purchase on the Litworld website, Amazon, and wherever books are sold.