Insurance losses in Ontario worth over $500 million last year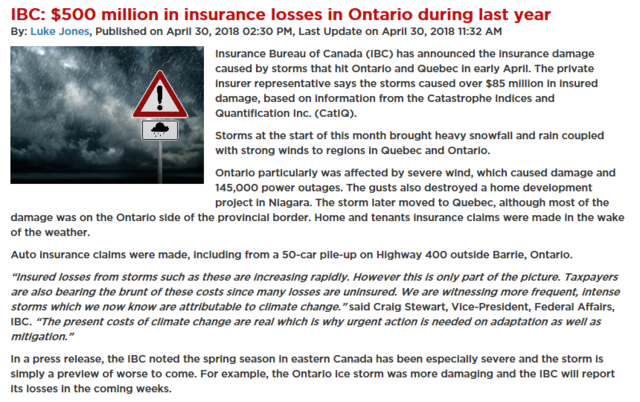 According to the Insurance Bureau of Canada (IBC), the insurance damage caused by storms that hit Ontario and Quebec in early April. The private insurer representative says the storms caused over $85 million in insured damage, based on information from the Catastrophe Indices and Quantification Inc. (CatIQ).
Storms at the start of this month brought heavy snowfall and rain coupled with strong winds to regions in Quebec and Ontario.
Ontario was particularly affected by severe wind, which caused damage and 145,000 power outages. The gusts also destroyed a home development project in Niagara. The storm later moved to Quebec, although most of the damage was on the Ontario side of the provincial border. Home and tenants insurance claims were made in the wake of the weather.
Auto insurance claims were made, including from a 50-car pile-up on Highway 400 outside Barrie, Ontario.
"Insured losses from storms such as these are increasing rapidly. However this is only part of the picture. Taxpayers are also bearing the brunt of these costs since many losses are uninsured. We are witnessing more frequent, intense storms which we now know are attributable to climate change." said Craig Stewart, Vice-President, Federal Affairs, IBC. "The present costs of climate change are real which is why urgent action is needed on adaptation as well as mitigation."
In a press release, the IBC noted the spring season in eastern Canada has been especially severe and the storm is simply a preview of worse to come. For example, the Ontario ice storm was more damaging and the IBC will report its losses in the coming weeks.
The bureau says over the last 12 months, the following weather events have contributed heavily to
more than $500 million in damage across Ontario
:
March 2017 windstorm in Hamilton and Niagara region with damage over $100 million
April 2017 wind and water damage in Ottawa and Burlington of over $25 million
May 2017 flooding damage in Peterborough and Minden over $50 million
August 2017 flooding in the Windsor area topping $160 million in damage
October 2017 wind and flood damage in Kingston and Ottawa of almost $50 million
January 2018 winter storm damage in Toronto, London and south western Ontario of nearly $10 million
February 2018 water and winter storm damage in southern Ontario of over $40 million.
Shop Insurance Canada is a subsidiary of
RDA Insurance
, a major Ontario based insurance provider with a stable of online outlets that includes Shop Insurance Canada family sites. The company has two goals, to give you the very best insurance policy possible and to help you save money when looking for coverage.
Shop Insurance Canada
1210 - 141 Adelaide St. W
Toronto, Ontario
M5H 3L5
Canada
(905) 266-0533
Email Shop Insurance Canada