Reporting Comes to Cerri's Suite of Project Management Apps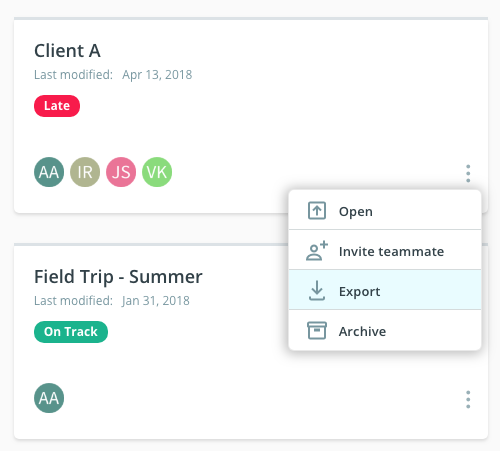 Montreal, QC - May 30, 2018 -
Cerri's suite of applications has become more inclusive than ever before. Now, users can export their projects into easy-to-read reports! This feature is available immediately to both paid and free users of Cerri. To use it, simply click the three vertical dots on any project tile from the 'Central' view, and click 'Export' to download it.
"We had a lot of our clients ask us about how they can share the progress of a project with a stakeholder who didn't have access to Cerri, so we really built this export feature with the end-user in mind," said Vasily Kilmko, Product Owner at Cerri.
"We're always looking for ways to help people deliver ideas in an easier way, which is why allowing users to export into a visual representation of data will make the work more frictionless. And for those of our users who are looking to utilize their own tools, we've also included the raw data so that they can manipulate it however they see fit."
Cerri's new step into exporting its product's raw data comes on the heels of their integration with Slack. In their continued effort to change the way the world works, Cerri continues its mission to deliver enterprise project management software that provides team collaboration and project management solutions to improve workflow and align teams.
Sign up for a free trial of Cerri today and see for yourself!
About Cerri -
The Cerri family of apps was designed with the user in mind, without sacrificing the safety that organizations demand. Cerri allows you to create and manage projects across your organization, sync your Outlook and Google Calendars to a single scheduler, create and manage tasks across all your projects, and collaborate on files with your team via their central file repository. Cerri is multilingual and provides on-premise solutions, making it an ideal fit for a variety of organizations across the world.