Thomas Jefferson School of Law Passes Major Milestone in 'Moving Forward' Plan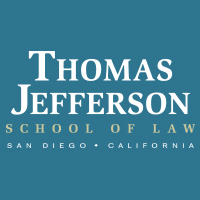 Opens New Facilities with Campus Move to Heart of San Diego
SAN DIEGO, CA – 5/31/18 – Thomas Jefferson School of Law said today it is significantly advancing its Moving Forward plan with a debt-free balance sheet and a campus move to 701 B Street in the heart of downtown San Diego this fall.
The Moving Forward plan, announced by Dean Joan Bullock earlier this year, demonstrates the Law School's commitment to providing high-quality education to its students based on three core concepts: Rightsizing, Reallocating, and Repositioning.
The new campus is an important investment in strategic planning for the Law School, streamlining the educational experience for students and faculty alike. 701 B Street is central to the heart of a thriving downtown and close to multiple transit options and housing. It is just blocks from the new Central Courthouse, California Court of Appeal, Federal Courthouses and many law firms.
The new campus move will help the Law School complete other critical steps in the Moving Forward plan that will drive the school forward, shifting resources from rent to maximize investment in students and the academic program.
Reduced footprint and overhead will empower the Law School to reallocate funds to provide scholarship opportunities for students - including the Law School's comprehensive and guaranteed scholarship awards, some of which include full tuition and housing grants.
Additionally, the new campus' Class-A building aligns with the Law School's student-first vision and its commitment to providing an even more meaningful and engaged learning environment. Repositioning with smaller classes will afford students more one-on-one attention and support from faculty and administration, helping better prepare students for the practice of law from their first year through graduation.
"We are thrilled about taking the first step in our Moving Forward plan with a campus that puts Thomas Jefferson School of Law in the heart of our city and community while making important investments in our students' education," said Dean Bullock. "We are looking forward to taking the next steps to ensure our students have the best education, resources, and facilities Thomas Jefferson has to offer."
About Thomas Jefferson School of Law
Our mission is to provide an outstanding legal education for a nationally-based, diverse student body in a collegial and supportive environment, with attention to newly-emerging areas of law, particularly those related to technological development, globalization and the quest for social justice. More at
www.tjsl.edu
.
Email Thomas Jefferson School of Law