Corporate Finance Associates Advises HSD Metrics in Its Acquisition by Shamrock Holdings, LLC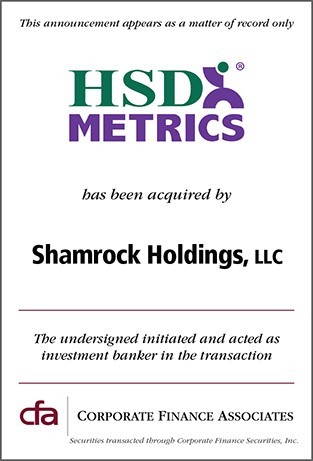 Los Angeles, CA
- June 7, 2018 -
Corporate Finance Associates
(CFA), a leading middle-market mergers and acquisitions advisory firm, announced it acted as the exclusive investment banker to HSD Metrics in its recent acquisition by Shamrock Holdings, LLC.
Established in 1992 by Ms. Deborah Dwyer, a human resources veteran with over 40 years of industry experience, HSD Metrics is headquartered in Dublin, Ohio. The company provides organizational surveys designed to increase retention, engagement and organizational effectiveness via its own proprietary, web-based platform. HSD Metrics began by offering outsourced employee satisfaction surveys designed to improve employee retention. The business' offerings then expanded over the years to include surveys covering the entire employee life cycle from hiring to exiting.
Shamrock Holdings, LLC is led by Mr. Dan Cahill, a former vice president of a global benefits administration firm. Shamrock Holdings is headquartered in Crescent Springs, Kentucky.
Transaction Information
On May 17, 2018, HSD Metrics was acquired by Shamrock Holdings, LLC in a private transaction. The terms were not disclosed. Investment banker representation was provided by the
Columbus, Ohio
office of Corporate Finance Associates, led by Mr.
Robert St. Germain
. When asked about the transaction, Mr. St. Germain commented, "We were especially pleased by the outcome of this engagement wherein we facilitated the acquisition of HSD Metrics by a uniquely qualified buyer able to take the company to the next level."
About Corporate Finance Associates
Corporate Finance Associates is a major investment banking services firm, with offices across North America and India and partner offices in Asia, South Africa and throughout Europe providing middle-market companies with a wide range of merger and acquisition advisory services and access to capital resources. From project inception to completion, a senior principal advises through every challenge; advocates on a client's behalf; and leverages CFA's experience and extensive resources. More information is available via the Internet at
www.corporatefinanceassociates.com
.
Email Corporate Finance Associates