Congratulations to Thomas Jefferson School of Law's Newest Attorneys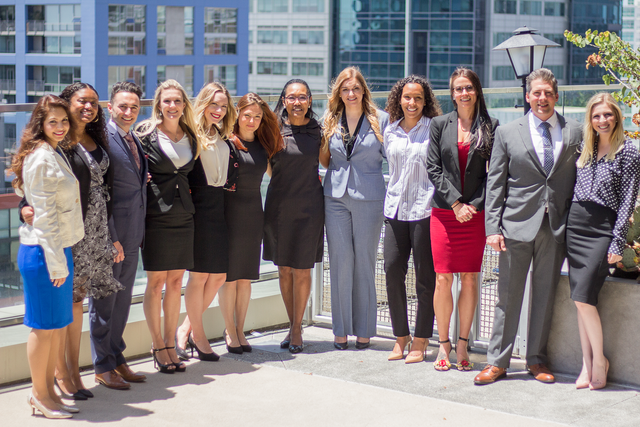 SAN DIEGO, CA, 6/9/18 – Thomas Jefferson School of Law's newest attorneys were celebrated at a reception held in their honor after they were sworn in on Thursday, June 7th. Their families and friends, along with Thomas Jefferson School of Law alumni, faculty, and staff, gathered in Thomas Jefferson School of Law's boardroom to wish the new attorneys well as they transition into this new phase of their legal career.
Thomas Jefferson School of Law President and Dean Joan Bullock congratulated the new attorneys and welcomed them to membership in the Bar. Making note of the joy and elation in the boardroom, Dean Bullock reminded them of the privilege of being licensed members in the legal profession and the weight and responsibility accorded to those so licensed. She stressed that they live pursuant to the high professional standards required of lawyers and that they take the moral high ground both professionally and personally. She further stressed that as alumni of Thomas Jefferson, they represent what Thomas Jefferson School of Law has to offer to the profession and to the community.
"In accomplishing your goal of becoming attorneys, you have made us proud. Keep making us proud through diligent preparation and always striving to be best that you can be. Likewise, at the law school, we will do and be our best so that you will continue to be proud of your alma mater and appreciative of the training and support you received here."
The mission of Thomas Jefferson School of Law is to provide an outstanding legal education for a nationally-based, diverse student body in a collegial and supportive environment with attention to newly emerging areas of law, particularly those related to technological development, globalization and the quest for social justice. Located in Downtown San Diego, Thomas Jefferson School of Law has evolved into an innovative, cutting-edge law school, devoted to the individual needs and success of its students. More information is available at
www.tjsl.edu
.
Email Thomas Jefferson School of Law