PlayerAuctions Provides OSRS Gold to USD Market Tracker Service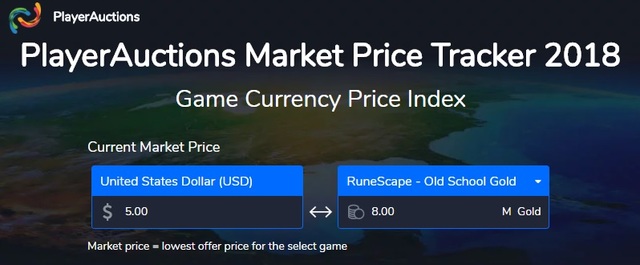 Hey adventurers! PlayerAuctions is pleased to introduce our new
OSRS Gold Market Price Tracker
. It's a reliable source of various information. You'll be able to get the current market price right at the top of the page. Other than that, it also tracks 7-day (to almost a year) trading highs and lows, as well as the active offers for
OSRS gold
. Lastly, there's also the rating of the best sellers as well as some trading statistics.
Advantages of the Market Tracker
All these information can help you find out which offers have the most value for your money. The economy's patterns are also made more obvious by the graph. It lets you predict when the currency is at its cheapest to buy. In addition to that, you can predict when it is at its most expensive to sell.
So don't be afraid to make use of this new feature!
PlayerAuctions is Getting Better
This is just one of the improvements we've got planned. Expect more features and upgrades to current ones in the future. We're committed to proving the best player-to-player trading platform. That means improving constantly and listening to our customers. So contact our Support Team and tell them any suggestion you have to improve our quality of service.
Look forward to those improvements!
Media Contact:
Daisy Marino
Marketing Specialist
Email:
marketing@playerauctions.com
URL:
https://www.playerauctions.com
Facebook:
https://www.facebook.com/PlayerAuctionsTrading
Twitter:
https://twitter.com/PlayerAuctions
Instagram:
https://www.instagram.com/playerauctions/
LinkedIn:
https://www.linkedin.com/company/itemmania-network-technology-shanghai-ld
Email PlayerAuctions™, LLC