SGI begins insurer-based fines for distracted drivers in Saskatchewan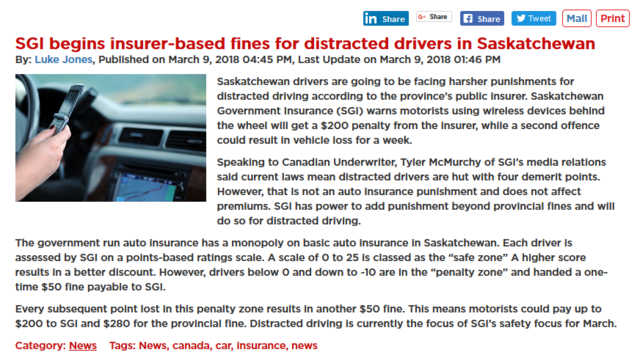 Saskatchewan's public insurer says drivers are going to be facing harsher punishments for distracted driving.
Saskatchewan Government Insurance (SGI) warns motorists using wireless devices behind the wheel will get a $200 penalty from the insurer
, while a second offence could have their vehicles impounded for a week.
Speaking to Canadian Underwriter, Tyler McMurchy of SGI's media relations said current laws mean distracted drivers are hut with four demerit points. However, that is not an auto insurance punishment and does not affect premiums. SGI has power to add punishment beyond provincial fines and will do so for distracted driving.
The government run auto insurance has a monopoly on basic auto insurance in Saskatchewan. Each driver is assessed by SGI on a points-based ratings scale. A scale of 0 to 25 is classed as the "safe zone" A higher score results in a better discount. However, drivers below 0 and down to -10 are in the "penalty zone" and handed a one-time $50 fine payable to SGI.
Every subsequent point lost in this penalty zone results in another $50 fine. This means motorists could pay up to $200 to SGI and $280 for the provincial fine. Distracted driving is currently the focus of SGI's safety focus for March.
Shop Insurance Canada is a subsidiary of
RDA Insurance
, a major Ontario based insurance provider with a stable of online outlets that includes Shop Insurance Canada family sites. The company has two goals, to give you the very best insurance policy possible and to help you save money when looking for coverage.
Shop Insurance Canada
303 - 330 Highway 7 East
Richmond Hill, Ontario
L4B 3P8
Canada
(905)266-0534
Email Shop Insurance Canada