Thomas Jefferson Alumna Andrea Carter represents a Dakota Access Pipeline Water Protector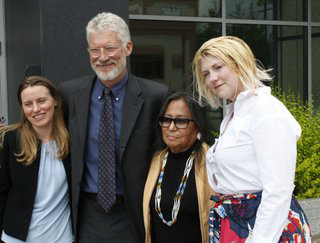 SAN DIEGO, CA, 6/22/18 – As a law student at Thomas Jefferson School of Law, Andrea Carter was passionate about legal work in the public interest. Now that she is in legal practice, she brings that passion to her work on behalf of those protesting the Dakota Access Pipeline in North Dakota. During 2016 and 2017, thousands of protesters set up camps to oppose the pipeline. Those camps were dismantled by law enforcement officers over a year ago, quashing the effort to stop the pipeline from being built near the Standing Rock Reservation.
Several protestors were indicted for actions they took to slow work on the pipeline on October 27, 2016. On that day, police clashed with protestors and many people were injured. More than 100 people were arrested. Carter's client, Michael "Little Feather" Giron, was one of the few indicted on felony charges. Allegations against him included that he had started fires in order to prevent police from taking actions against the protestors.
Facing the chance of a harsh sentence, Giron accepted a non-cooperating plea deal. A 36-month sentence was imposed, but since he has already spent time incarcerated, it is hoped that he might be released to a halfway house in less than a year. Andrea Carter, a member of his legal team and Legal Director of the Water Protector Legal Collective, helped secure this favorable outcome for him.
Andrea Carter received the Charles T. Bumer Civil Libertarian award in 2008 while she was completing her legal education at Thomas Jefferson School of Law. In 2006, she received a Public Interest Law Grant from the school.
An article describing her work for Giron is available
here
.
Email Thomas Jefferson School of Law