Editorial cartoonist Rob Rogers gives protesters permission to use "Immigrant Children" cartoon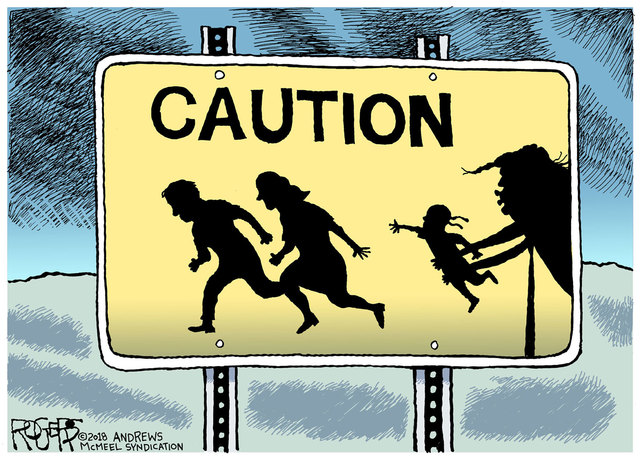 Rob Rogers' cartoon, "Immigrant Children" says it all. It's just heartbreaking to see
immigrant children separated from their parents
, and transferred to internment centers where they are held in
violation of their human rights
.
Last week editorial cartoonist and Pulitzer Prize nominee
Rob Rogers
was fired from his job of twenty-five years at the
Pittsburgh Post Gazette
for
making fun of Donald Trump
. When contacted by
Claire Condra
for permission to reproduce the cartoon as a protest poster for the upcoming June 23rd FAMILIAS UNIDAS NO DIVIDIDAS / FAMILIES BELONG TOGETHER rally in downtown San Diego, Rob replied:
"Thanks so much for asking. Yes. I give my permission. I would love for people to put it on posters. I am attaching a jpeg of the image. It should be fine to blow up larger."
Before the day was over, Claire had received financial backing from a prominent Silicon Valley publisher and angel investor to cover the cost of printing one hundred signs.
On June 23, protesters will meet at 10:00 AM at the Civic Center in downtown San Diego, and march to the ICE office on Front Street.
On June 30, Families Belong Together rallies are scheduled to be held all over the United States. This is the event that we are targeting with this press release.
Everyone who is planning to participate in one of the scheduled protests can reproduce Rob Roger's iconic "Immigrant Children" cartoon to use as a poster or sign during the demonstration. The reproduced artwork cannot be sold for profit.
Here's how:
1. Obtain a quote from a commercial printer to digitally print and mount the 24" x 18" poster.
2. Send a copy of the printer quote to Claire Condra (
clairecondra@cox.net
) with the subject line "Immigrant Children." Claire will send the printer a link to the high-resolution image, and the authorization letter signed by the artist to reproduce the copyrighted work.
3. For large quantities, consider finding a sponsor to cover all - or part - of the cost of production.
Although with digital printing you don't get a significant price break for quantity, It's best to consolidate print orders for a single event, if possible.
For the San Diego rally,
The Line Printing Company
in Chula Vista offered to digitally print and mount the posters on Coroplast for $10.80 each. You should be able to find a printer in your area who can give you a comparable price and turn it around in time for your local protest.
Additional Resources:
Families Belong Together
(LinkedIn article)
Families Belong Together
(Facebook page for June 23 rally)
Families Belong Together – Attend a June 30 Event
(MoveOn.org)
Attachment:
"Immigrant Children" by Rob Rogers (1500px x 1077px – low res 72 dpi)
Thank you everybody - You know who you are!
Email Families Belong Together