PlayerAuctions Fortnite Account Value Calculator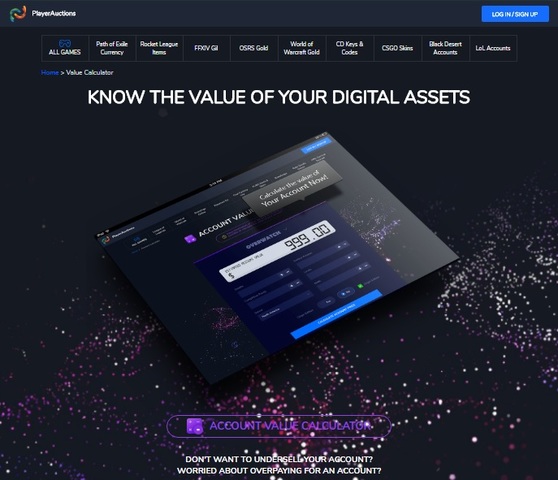 Worried about overpricing your Fortnite account? Wondering if this offer is worth it? With PlayerAuctions'
Fortnite Account Value Calculator
, you don't have to worry anymore! All you need to do is to fill in the information the calculator asks for, and the estimate pops in.
The estimate is based on recent offers on our site. All it asks for is the account's game edition, level, its Battle Pass Tier, number of skins by rank, and amount of V-bucks. There's also whether or not the account name can be changed.
What Do You Do with the Estimated Value?
Well, first thing is that you have a baseline price to sell your account. It's still up to you whether you follow, raise, or lower your selling price though. While it also uses other offers on the site, check and comparing those yourself will take time. Save yourself some time and just use the
value calculator
for a quick and easy estimate.
The other thing you can do with the estimate is to check an offer if it's overpriced. Most sellers give the information the calculator need, so it's just a matter of filling it in. The next step is to compare the resulting estimate with the seller's price. With the calculator, you'll be able to tell whether the offer is worth it or not in a snap!
With our top of the line security and growing community, it's no wonder why PlayerAuctions is getting better and better. Expect more announcement like this in the future. Happy shopping!
Media Contact:
Daisy Marino
Marketing Specialist
Email:
marketing@playerauctions.com
URL:
https://www.playerauctions.com
Blog:
PoE Build
Facebook:
https://www.facebook.com/PlayerAuctionsTrading
Twitter:
https://twitter.com/PlayerAuctions
Instagram:
https://www.instagram.com/playerauctions/
LinkedIn:
https://www.linkedin.com/company/itemmania-network-technology-shanghai-ld.
Email PlayerAuctions™, LLC