VantagePoint Announces Release of Two New Leveraged ETF Sectors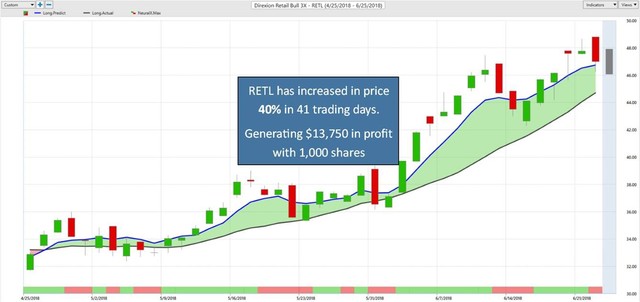 Wesley Chapel, Fla, June 26th, 2018 – VantagePoint Software, the artificial intelligence trading software capable of predicting stock market trends up to three days in advance with up to 86% accuracy, announces the launch of two Leveraged ETF Sectors that allow traders to capture trends in standard ETFs but at a profit of 200% to 300% through their leveraged counterpart.
This week the software company known for its ground-breaking, market trend forecasting software, VantagePoint, officially announced the release of two new Leveraged ETF sectors in their platform. Unlike traditional ETFs, Leveraged ETFs provide double or triple the performance of a traditional index. Without increasing their risk, traders can make the same move on the same trends while multiplying their gains.
VantagePoint released two Leveraged ETF Sectors, one Bull and one Bear. Together, these new sectors provide over 80 leveraged ETFs all forecasted with an accuracy up to 86%. In addition to doubling or tripling profits, the Bear Leveraged ETF allowed traders to capitalize on the down markets by trading an inverse ETF. Inverse ETFs trade just like a stock or ETF but move opposite of the market or industry it follows. In cases of a down market, like the current market, traders can still trade to the long side by buying an inverse ETF.
President Lane Mendelsohn said, "We are really excited about the launch of the Leveraged ETF Sectors. Both active traders and longer-term investors can benefit from greater diversity, more leverage, and high profit potential. We see this as another way VantagePoint Software remains committed to bringing more value, through the use of artificial intelligence to our customers."
A free demo is available at
https://www.vantagepointsoftware.com/demo/
or by calling 800-732-5407.
About Market Technologies
Headquartered in Wesley Chapel, Fla., Market Technologies, creators of VantagePoint Software, is a leader in trading software research and software development. VantagePoint forecasts Stocks, Futures, Forex, and ETFs with proven accuracy of up to 86%. Using artificial intelligence, VantagePoint's patented Neural Network processes predicts changes in market trend direction up to three days in advance, enabling traders to get in and out of trades at optimal times with confidence.
Email Market Technologies