Applied Systems: Canadian brokers slow to embracing digital technology.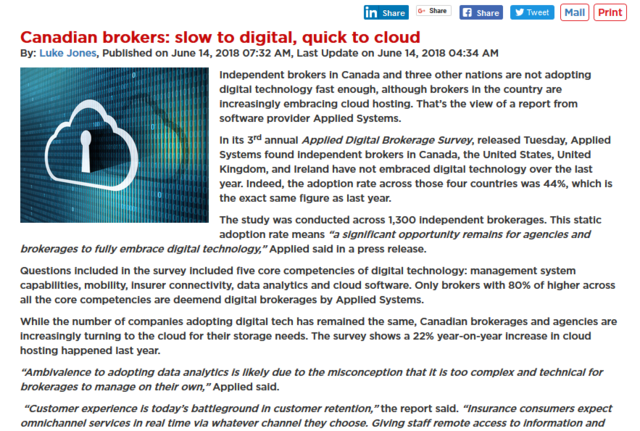 Independent brokers in Canada and three other nations are not adopting digital technology fast enough
, although brokers in the country are increasingly embracing cloud hosting. That's the view of a report from software provider Applied Systems.
In its 3rd annual Applied Digital Brokerage Survey, released Tuesday,
Applied Systems
found independent brokers in Canada, the United States, United Kingdom, and Ireland have not embraced digital technology over the last year. Indeed, the adoption rate across those four countries was 44%, which is the exact same figure as last year.
The study was conducted across 1,300 independent brokerages. This static adoption rate means "a significant opportunity remains for agencies and brokerages to fully embrace digital technology," Applied said in a press release.
Questions in the survey included five core competencies of digital technology: management system capabilities, mobility, insurer connectivity, data analytics and cloud software. Only brokers with 80% or higher across all the core competencies are deemed digital brokerages by Applied Systems.
While the number of companies adopting digital tech has remained the same, Canadian brokerages and agencies are increasingly turning to the cloud for their storage needs. The survey shows a 22% year-on-year increase in cloud hosting happened last year.
"Ambivalence to adopting data analytics is likely due to the misconception that it is too complex and technical for brokerages to manage on their own," Applied said.
"Customer experience is today's battleground in customer retention," the report said. "Insurance consumers expect omnichannel services in real time via whatever channel they choose. Giving staff remote access to information and tools within the management system empowers them to quickly respond to client and prospect service and sales requests – anytime, anywhere."
Other survey findings include:
Overall, 97% of polled brokerages use a management system.
77% receive downloads directly into their management system.
72% of Canadian brokerages manage insurer relationships in the management system.
Shop Insurance Canada
is a subsidiary of
RDA Insurance
, a major Ontario based insurance provider with a stable of online outlets that includes Shop Insurance Canada family sites. The company has two goals, to give you the very best insurance policy possible and to help you save money when looking for coverage.
Shop Insurance Canada
303 – 330 Highway 7 East
Richmond Hill, Ontario
L4B 3P8
(905)266-0534
Email Shop Insurance Canada