Patriotic Promotions Increase Summer Traffic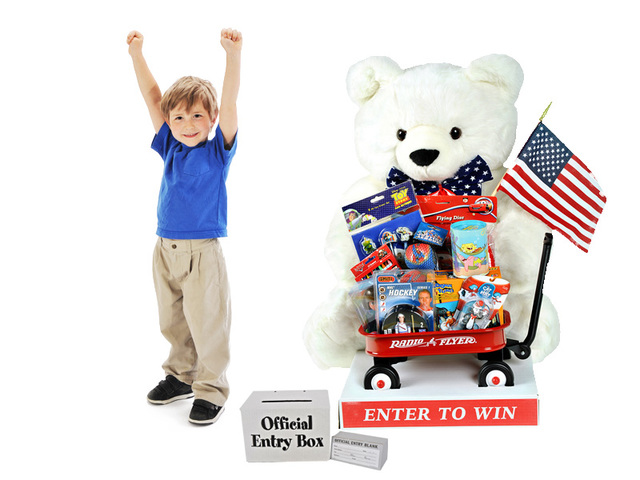 Dallas, Texas, June 26, 2018 – Retail businesses often struggle with promotional ideas for the summer. The patriotic holidays of summer offer a perfect opportunity to increase retail store traffic with a themed sweepstakes or drawing.
The Bernie the Bear and Patriotic Stocking promotions by
Bagwell Promotions
can increase retail traffic to stores that want or have customers with children. Similar to the World's Largest Christmas Stocking that many businesses use during the holidays, the Patriotic Stocking comes in 6 or 8 feet long versions, looks like a firecracker, and is crammed with a selection of best-selling toys. The 3' tall plush Bernie the Bear has a classic radio flyer wagon packed with 8 - 10 summer toys. Entry blanks, a registration box, a colorful poster and a press release packet are all included. This complete promotional kit provides everything needed to attract families to any kind of store.
Dentists and doctors, car dealers, furniture stores, check cashing stores, banks and credit unions, entertainment centers, and other retail establishments have all found this campaign will increase sales and awareness for the store.
John Bagwell, President of Bagwell Promotions stresses that a business that wants to increase family traffic, encourage customer loyalty, and build contact lists will find these promotions beneficial.
"For instance, family restaurants find these promotions don't just increase the number of customers," Bagwell adds. "People come more often and the display helps keep the kids occupied while their parents are waiting to be seated by the hosting staff."
Bernie the Patriotic Bear and the Patriotic Stocking are seasonal favorites among Bagwell's clients. Bagwell notes that almost 80 percent of customers reorder year after year. Stores with several different locations can have the promotions drop-shipped to each store. "It's not unusual for us to ship to 50 or 60 locations for the same company," says Bagwell.
Additional information is available at
https://www.bagwellpromotions.com/summer-retail-promotion
or by calling toll free 1-866-281-8830.
About Bagwell Promotions :
For over 38 years,
Bagwell Promotions
has offered over 500,000 imprinted promotional products from 4,100 suppliers. Products include coffee mugs, pens, flashlights, magnets, ID bracelets, key chains and other specialty items along with an assortment of apparel.
Contact:
John Bagwell
1-866-281-8830