Schools and Organizations Consider Clear Backpacks For Safety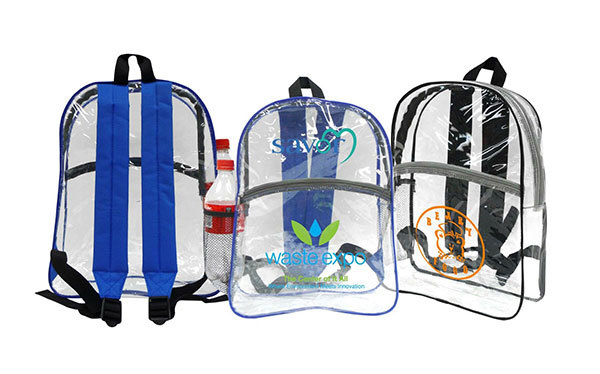 Dallas, Texas, June 26, 2018 – Following recent school shootings, many school districts have initiated restrictions on the type of backpacks students can bring to school. Starting in the fall, students from pre-K to 12th grade who attend schools in some school districts will be required to carry only transparent backpacks to class. Clear backpacks allow administrators and other officials an easy way to see what is actually in a backpack.
Now, Businesses and Non-Profit Organizations can purchase Clear Backpacks with their name, logo or message imprinted. For companies that have students or parents as customers, this can offer an opportunity to provide something of value that will be appreciated. Non-profit organizations such as PTAs or Student groups can put the school logo or team slogan on these clear student backpacks.
One company offering these clear backpacks is
Bagwell Promotions
in Dallas, Texas. According to John Bagwell, owner, "Because this can be an additional strain on many parents budgets, local businesses and organizations have found a way to provide these to schools." He added, "These clear backpacks can be imprinted with a message, name or logo, while still allowing easy viewing of the contents."
These clear backpacks may also be useful for other events such as sporting events, concerts or other venues where a clear bag is required.
However, Bagwell warns that before purchasing these promotional items, You should check with the school district, arena or organization to make sure your backpack or bag meets the size requirement for that specific use.
Additional information is available at
https://bagwellpromotions.com/clear-school-backpacks/
or by calling toll free 1-866-281-8830.
About Bagwell Promotions:
For over 38 years,
Bagwell Promotions
has offered over 500,000 imprinted promotional products from 4,100 suppliers. Products include coffee mugs, pens, flashlights, magnets, ID bracelets, key chains and other specialty items along with an assortment of apparel.
Contact:
John Bagwell
1-866-281-8830