Endless Games The Floor Is Lava Blasts Onto Toy Scene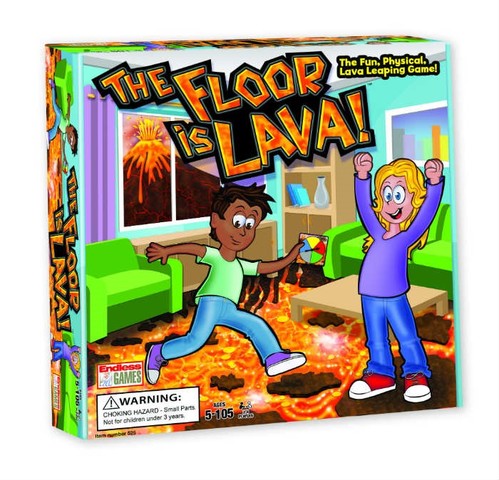 IT'S HOT! Endless Games today announced the official release of its new The Floor is Lava game.
The new game is an official version of the improvisational imagination game that kids have been playing for decades. In Endless Games'
The Floor is Lava
(MSRP $19.99 for 2-6 players ages 5-105) the game has more structure, strategy and quick-thinking, quick-reaction game play elements. "And it saves your furniture," Brian Turtle, National Sales Manager for Endless Games, quipped.
Most people have played a sudden "shout out" game, where someone yells "lava" and everyone jumps all over the furniture trying to stay off the dangerous floor. Endless Games created a format where players continue to imagine the floor is molten hot lava, but added play patterns using a spinner for color call-outs and having players jump along foam game pieces in order to reach safety. Challenge cards that enforce activities that can make it difficult not to fall into the lava come into play when landing on certain tiles. The game incorporates physical activity, imagination and pure fun.
While the game is just starting to appear in stores, the timing of its release was coincidence with the "eruption" of recent world events. "When the volcanos erupted in Hawaii and Guatemala we considered the timing of the release of our game," Turtle said. "We're going to use our game to bring attention for help to the natural disaster areas."
Kevin McNulty, founder of Endless Games, explained, "At Endless Games we create family fun games for the enjoyment and entertainment of all ages. While we take the creation of quality games as very serious business, we also recognize the serious events occurring throughout the world around us. For our latest game, The Floor is Lava, a fun and active game with an imaginative element, we will be supporting the reality of those affected by the recent volcanic eruptions."
From now through August 1, 2018, Endless Games will be donating a portion of proceeds from every single sale of it's the Floor is Lava game to the
American Red Cross Disaster Relief Fund
to help the people impacted by the volcanic eruptions. "When you buy this game, you're going to have a lot of fun and you're going to help the people of Hawaii and Guatemala," Mike Gasser, President of Endless Games, said.
The company asks to share the effort in social media
#VolcanoRelief #EndlessGames #DisasterRelief #RedCross
About Endless Games
: Founded in 1996 by industry veterans Mike Gasser, Kevin McNulty and game inventor Brian Turtle, Endless Games specializes in games that offer classic entertainment and hours of fun at affordable prices. The three have an uncanny ability for discovering and developing hit games, having been a part in past successes Trivial Pursuit™, Pictionary® and Six Degrees of Kevin Bacon™. The mission of Endless Games is to produce high quality entertainment in board games that are quick and easy to learn but offer "Endless" play value. For additional information, visit
www.endlessgames.com
and interact with us on
Facebook
,
Twitter
,
Pinterest
,
Instagram
and
YouTube
.