Montreal borough implements new rules to limit private tourist rentals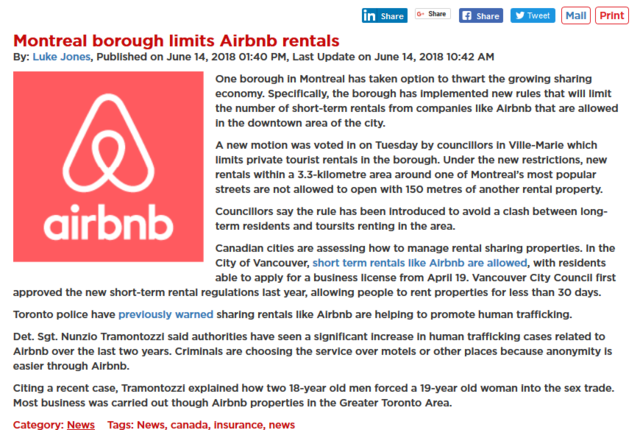 A borough in Montreal has taken steps to hinder the growing sharing economy. Specifically,
the borough has implemented new rules that will limit the number of short-term rentals from companies like Airbnb
that are allowed in the downtown area of the city.
A new motion was voted in on Tuesday by councillors in Ville-Marie which limits private tourist rentals in the borough. Under the new restrictions, new rentals within a 3.3-kilometre area around one of Montreal's most popular streets are not allowed to open within 150 metres of another rental property.
Councillors say the rule has been introduced to avoid a clash between long-term residents and toursits renting in the area.
Canadian cities are assessing how to manage rental sharing properties. In the City of Vancouver, short term rentals like Airbnb are allowed, with residents able to apply for a business license from April 19. Vancouver City Council first approved the new short-term rental regulations last year, allowing people to rent properties for less than 30 days.
Toronto
police have previously warned sharing rentals like Airbnb are helping to promote human trafficking.
Det. Sgt. Nunzio Tramontozzi said authorities have seen a significant increase in human trafficking cases related to Airbnb over the last two years. Criminals are choosing the service over motels or other places because anonymity is easier through Airbnb.
Citing a recent case, Tramontozzi explained how two 18-year old men forced a 19-year old woman into the sex trade. Most business was carried out though Airbnb properties in the Greater Toronto Area.
Shop Insurance Canada
is a subsidiary of
RDA Insurance
, a major
Ontario
based insurance provider with a stable of online outlets that includes Shop Insurance Canada family sites. The company has two goals, to give you the very best insurance policy possible and to help you save money when looking for coverage.
Shop Insurance Canada
705 Cassells St
North Bay, Ontario
P1B 4A3
Canada
705-814-0023
Email Shop Insurance Canada