RumbleOn Revs Up Ease and Efficiency For Online Powersport Buying and Selling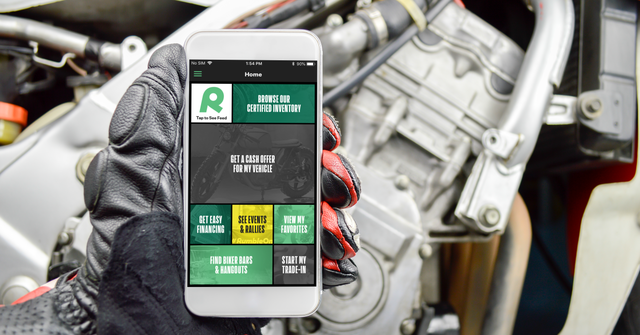 CHARLOTTE, N.C. - August 14, 2018 - RumbleOn (NASDAQ: RMBL), the only 100 percent online powersports marketplace, today announced a new mobile application for both iOS and Android, alongside a revitalized website experience. RumbleOn is transforming the way pre-owned powersports vehicles are bought and sold by providing users with the most efficient, timely, transparent and trustworthy acquisition and distribution experience.
The new RumbleOn website and mobile app include significant enhancements to user experience, as well as the delivery of cash offers and inventory pricing. Additionally, the platform will include an all-new lifestyle and educational content experience. The simplified, mobile-first platform allows users to easily switch between social-focused tasks like finding nearby biker bars and hangouts, to a consumer-centric list of recommended motorcycles to buy. With these new platform developments, consumers will have a faster, safer and easier buying and selling experience, along with access to easily-digestible and shareable content.
RumbleOn provides consumers and dealers instant cash offers for vehicles and guarantees fast payment and free pick up. If the seller owes on the vehicle, RumbleOn will cover the cost for the seller within the same day. Equally as convenient for buyers, every certified motorcycle in the huge RumbleOn inventory includes free shipping to 48 states, no dealer fees, a 90-day guarantee and more.
"What consumers really want is an experience that removes risk, emphasizes efficiency, and fosters trust for buyers and sellers. With RumbleOn, we offer a no dealership, no salespeople, but offer value pricing and a friction-free process delivered on the latest digital technology," said Marshall Chesrown, CEO of RumbleOn. "With a digital platform, RumbleOn customers have all of the control. No one is coerced into taking a deal that is unsatisfactory, and the ease with which customers can get paid, trade, or buy the powersport vehicle of their dreams faster and safer than ever."
Recent research from eMarketer forecasts that mobile-commerce sales, "will account for 39.6% of total e-commerce in 2018, growing at a rate of 33% annually, and will represent the majority of e-commerce spending by 2021." With an all-new, easily accessible and robust digital platform, RumbleOn aims to address consumer buying preferences head-on.
For more information visit
www.rumbleon.com
or download the mobile application for iOS and Android.
About RumbleOn
RumbleOn operates a capital-light disruptive e-commerce platform facilitating the ability of both consumers and dealers to Buy-Sell-Trade-Finance pre-owned vehicles in one online location. RumbleOn's goal is to transform the way pre-owned vehicles are bought and sold by providing users with the most efficient, timely and transparent transaction experience. RumbleOn's initial focus is the market for VIN specific pre-owned powersport vehicles with an emphasis on motorcycles and other powersports. Serving both consumers and dealers, through its 100% online marketplace platform, RumbleOn makes cash offers for the purchase of pre-owned vehicles. In addition, RumbleOn offers a large inventory of pre-owned vehicles for sale along with third-party financing and associated products.