Corporate Finance Associates Advises Ligchine International, Inc. In The Recent Investment of Growth Capital by Blue Sage Capital and Hanover Partners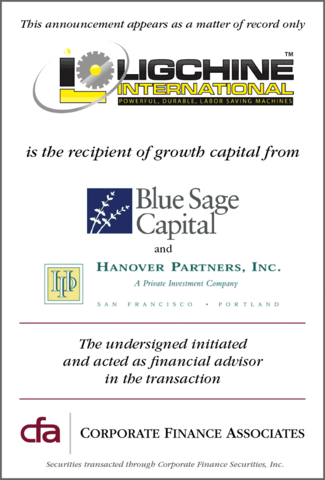 Los Angeles, CA - August 15, 2018 - Corporate Finance Associates (CFA), a leading middle-market mergers and acquisitions advisory firm, announced it has assisted with the recently completed growth capital investment in Ligchine International, Inc. (
http://www.ligchine.com
) by Hanover Partners and Blue Sage Capital.
Founded by Gary and Peter Ligman, with a primary manufacturing facility in Darien, WI and an additional office in Floyds Knobs, IN, Ligchine is a globally-recognized leading designer, manufacturer, and marketer of laser-guided boom screeds used in the concrete construction industry. The Company's products provide best-in-class flatness and levelness results for its customers. Gary and Peter commented on the transaction by saying, "If not for CFA, this deal never would have happened, and we remain grateful for their immense level of talent, support and guidance."
Transaction Information
On July 31, 2018, Blue Sage Capital and Hanover Partners completed a growth capital investment in Ligchine International, Inc. in a private transaction. The terms were not disclosed. Investment banker representation was provided by the Kentucky office of Corporate Finance Associates, led by Mr. Robert Decker. When asked about the transaction, Bob commented, "It has been a pleasure assisting Gary and Peter Ligman on this transaction and it is gratifying for CFA to play a role in the future development and growth of Ligchine International."
About Blue Sage Capital
Blue Sage Capital is an Austin, Texas-based private equity firm specializing in growth, recapitalization and buyout financings of lower middle-market companies.
About Hanover Partners
Founded in 1994, Hanover Partners is a private equity firm with offices in Portland, OR and San Francisco, CA. Hanover invests in lower middle-market manufacturers of proprietary, highly-engineered products, including makers of industrial equipment, test & measurement products, and niche branded consumer products.
About Corporate Finance Associates
Corporate Finance Associates is an international investment banking firm with over 40 offices around the world that serve middle-market companies. With over 60 years of experience in mergers and acquisitions, CFA has closed numerous successful transactions. Please visit
www.corporatefinanceassociates.com
for more information.
Email Corporate Finance Associates