First Student's Fourth Annual Safety Dog Bus Tour Goes Back to School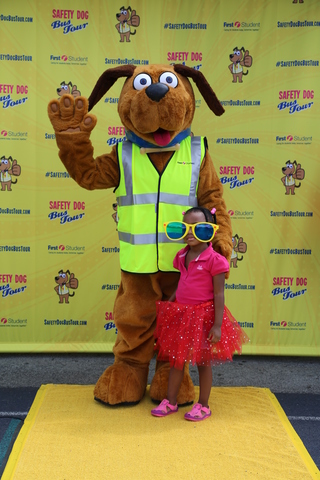 Cincinnati
- School transportation leader First Student shines a spotlight on school-bus safety this back-to-school season through its fourth-annual Safety Dog Bus Tour.
Kicking off August 23 in Rochester, Minnesota and Nashua, New Hampshire, the Safety Dog Bus Tour will travel to 10 locations across North America. Each Tour stop reinforces safe school-bus behavior through fun, interactive activities.
"Student safety is at the heart of everything we do," said First Student President Dennis R. Maple. "The Safety Dog Bus Tour provides a timely and engaging platform to teach appropriate behavior and showcase the safety features on a First Student bus. We make it fun, so these messages are delivered in a memorable way."
During Safety Dog Bus Tour events, students can see firsthand how a First Student bus is designed for safety inside and out; "Walk the Yellow Carpet" and pose for a photo with Safety Dog, First Student's safety mascot; sign a safety pledge and leave with a bag full of Safety Dog goodies.
This year's Tour stops include:
Belvidere School District: Belvidere, Ill.
Calgary Catholic School District: Calgary, Alberta, Canada
Francis Howell School District: St. Charles, Mo.
Huron Perth Student Transportation Services: Stratford, Ontario, Canada
Irving Independent School District: Irving, Texas
Kansas City Public Schools: Kansas City, Mo.
Nashua School District: Nashua, N.H.
Rochester Public Schools: Rochester, Minn.
Saddleback Valley Unified School District: Mission Viejo, Calif.
Watertown City School District: Watertown, N.Y.
The Tour also aims to remind motorists that they, too, have an important role in keeping bus riders safe by obeying stop arm safety laws. A recent survey suggests there could be more than 14 million illegal stop-arm passes during a school year.
Since 2015, there have been 23 stops on the Safety Dog Bus Tour. In total, more than 25,000 guests have visited a stop, and almost 9,000 students signed a safety pledge.
Tour dates, times, locations, safety tips and downloadable activities for students and parents are available at
safetydogbustour.com
. Safety tips and tour updates also can be found by following First Student on
Twitter
,
Facebook
and
Instagram
as well as the #SafetyDogBusTour hashtag.
Riding a bus is the safest way for children to get to and from school According to the National Highway Traffic Safety Administration, school buses are approximately 70 times safer than passenger cars and 10 times safer than walking.
About First Student, Inc.
As the leading school transportation solutions provider in North America, First Student provides the best start and finish to every school day. First Student completes five million student journeys each day, moving more passengers than all U.S. airlines combined. With a team of highly-trained drivers and the industry's strongest safety record, First Student delivers reliable, quality services including full-service transportation and management, special-needs transportation, route optimization and scheduling, maintenance and charter services for 1,100 school district contracts. For more information, please visit
firststudentinc.com
.
Media Contacts:
Sarah Sampson, Vehr Communications, 513.381.8347,
ssampson@vehrcommunications.com
Jen Biddinger, First Student, 513.362.4600,
jen.biddinger@firstgroup.com
###