Yahya Yuksel, AZ02 Democratic congressional candidate, releases a detailed video titled "Exposing Arizona's Dirty Politics" just days before the primaries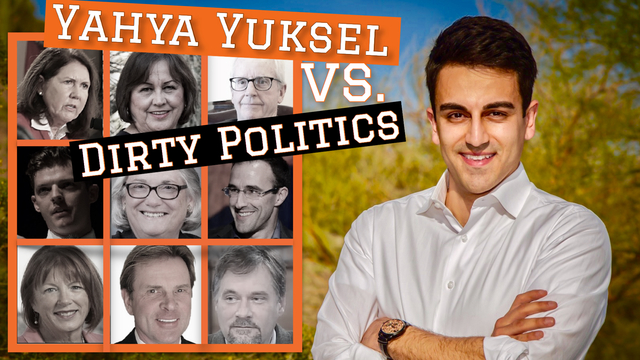 Yahya Yuksel was a rising star in the Democratic primaries in Arizona's 2nd District. At the peak of his congressional campaign, 28-year-old Yahya Yuksel was fundraising more than most of his primary opponents, had a larger volunteer group than most other opponents, and was garnering significant traction during forums and policy discussions. His new solutions to a broken Congress were being widely circulated.
While the local democratic party was telling people not to vote for Yahya Yuksel, the national democratic party (DCCC) was telling people who to vote for by heavily investing in one of his primary opponents.
Giving in to the pressure of a small but vocal and manipulated mob of sexual assault victims, the local Democratic party resolved to withdraw support from Yahya's candidacy claiming it was because of Yahya's "handling" of a decade old police report that states a false sexual assault allegation from when Yahya was a minor in high school. Yet there is evidence that the party had already decided to condemn Yahya if he didn't drop out of the race.
A full written statement on the false allegation can be found at
www.yahya4congress.com/statement
. The full video can be found at
the Yahya4congress YouTube Channel
.
While in high school, a 16-year-old individual and 17-year-old Yahya, had a consensual sexual encounter after talking, flirting, and drinking at her classmate's home. The individual did claim to a school counselor that she was raped during counseling for her parent's divorce five months later. Following standard reporting requirements, the counselor called the Pima County Sherriff's Department, who then investigated the allegation. The authorities report one person interviewed made an allegation and an eyewitness who testified that the allegation was false. The individual making the allegation was forced to talk to the police and told the police she did not want anything to happen to Yahya. The allegation was deemed unworthy of pursuing by the authorities and by the individual making the allegation. Yahya was never interviewed by the investigating officer, he was never given an opportunity to counter the allegation, and the authorities stopped the investigation.
Yahya discovered the report and its content eight years later when passing the moral character and fitness to become a licensed attorney. The CA Bar Association does not give merit to an allegation and deemed his character worthy to practice law.
But the local political machine and his opponents used the outrage of a few loud attackers to frame the issue as the voice of the public opinion. Several local journalists also joined in and made ridiculous claims about Yahya and the campaign, as highlighted in the video. Internal politics and personal ties lead a few on the board of the local Pima Democratic Party to whip votes to condemn and excommunicate Yahya.
Refusing to give in and stand down, Yahya called the orchestrated smear campaign 'a lynch mob' and responded to allegations. "They couldn't kill my dreams so they tried to assassinate my character." He told local TV station, KGUN 9.
"Yahya has been convicted and excommunicated by Mob Rule of: "Guilty Until Proven Guilty." His family, friends, and supporters have also been condemned by Mob Rule #2: "Guilty by Association."" said his father, Edip Yuksel.
Introducing the video with: "I know who I am and I will never stop. Who are you?", Yahya Yuksel reiterated his policies and solutions, rebuffed the smear campaign and stood his ground: "We must stand for rule of law and basic principles of justice. Justice for all. Justice can be attained neither through mob rule, hatred, nor through the statements of cowards and political opportunists who join the bandwagons. Injustice anywhere is a threat to justice everywhere." stated Yahya.
Video Chapters:
2:20 Leader in the Making.
7:54 The Campaign.
12:06 Guilty Until Proven Guilty.
30:00 Policies for Change.
About Yahya Yuksel:
Yahya is a lifelong Democrat, running for U.S. Congress in Arizona's 2nd District. Yahya is an international attorney, born and raised in CD2. He graduated from the University of Arizona with a bachelor's in business marketing and a Juris Doctorate in law. He also attended China's top University and received a Masters in Chinese law.
Yahya is not new to politics. When he was just 14 years old, he and his friend co-founded TeenDemocrats, an organization mobilizing youth groups to campaign for John Kerry's 2004 presidential bid. Following Kerry's defeat, Yahya and his friends continued pushing the youth agenda through the establishment of a Teen Court in his high school and volunteering efforts at soup kitchens. After high school, Yahya interned for Congresswoman Gabby Giffords where, in that time, he had the opportunity to hear the many voices of CD2 constituents regarding an array of issues and challenges they faced on a daily basis. Afterward, he served as the youngest Chairman of the City of Tucson Human Relations Commission, promoting and funding social diversity and non-profit initiatives in the Tucson community, and served as the Co-Chair for Vice Mayor Karin Uhlich's successful 2009 re-election campaign.
Yahya became the first UofA law student approved to complete an international dual degree program in coordination with Tsinghua University in Beijing. Upon graduation, he was offered an opportunity to become the first American to work in a local Chinese Ministry of Commerce as a licensed Foreign Expert on International Investment. Yahya had unique access to the inner workings of Chinese investment strategies and government processes for the Pearl River Delta region of South China. After serving his term, he accepted a position with an American investment consulting firm, traveling across Asia promoting cross-border investment. During his time abroad, Yahya coordinated development projects with international organizations, Ministers of State, and high net worth individuals to promote the rule of law and internationalization of investment infrastructure.