Market Technologies Included in the Business Observer 2018 Top 500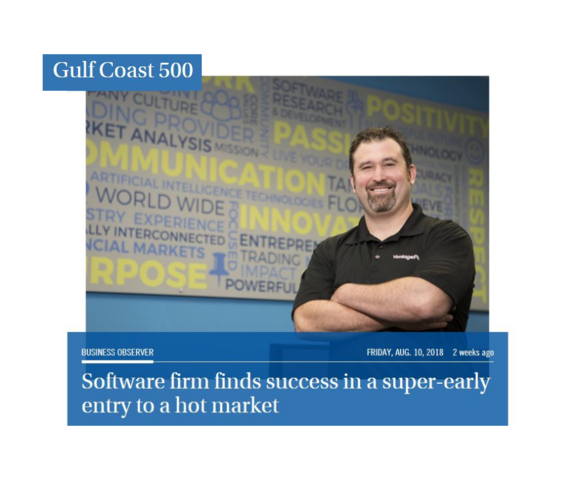 Market Technologies, the developer of VantagePoint and the first company in the world to bring artificial intelligence (AI) forecasting capabilities to the retail trader and investor, has been included on the Business Observer 2018 Top 500 list.
The Top 500 is a one-of-a-kind, statewide list compiled of the highest-ranking companies in terms of total revenue for the previous two-year period. Each year, the prestigious publication also reaches out to a select 6 companies from the list for an additional featured story where their top executives detail their strategies for success. Market Technologies was among one of the featured stories.
Market Technologies is proud to have made the list due to their revenue achievements, but according to company President, Lane Mendelsohn, it's not just about the revenue for them and is more about the many lives they are changing daily.
"For us it is not about revenue. There are things that we do that are more for the greater good of the company and our long-term vision. There are opportunities we evaluate that would be a nice jump in revenue, but that are not good for the culture of the company." Said Mendelsohn.
In addition to helping traders and investors to make profitable trading decisions, VantagePoint helps better the lives of those in the community by making continuous financial contributions to organizations such as Shriners Hospitals for Children. In fact, a large portion of the company's revenue either goes right back into Research & Development to build an even stronger software for customers, back into the local community, or to provide benefits to its employees such as 100% company provided healthcare.
Today, VantagePoint has over 30,000 customers in 140 countries across the globe and will be celebrating its 40th anniversary this coming year.
For full story and free demo of the software, visit:
https://www.vantagepointsoftware.com
or call 800-732-5407.
About Market Technologies
Headquartered in Wesley Chapel, Fla., Market Technologies, creators of VantagePoint Software, is a leader in trading software research and software development. VantagePoint forecasts Stocks, Futures, Forex, and ETFs with proven accuracy of up to 86%. Using artificial intelligence, VantagePoint's patented Neural Network processes predicts changes in market trend direction up to three days in advance, enabling traders to get in and out of trades at optimal times with confidence.
Email Market Technologies