Unelko Corporation Announces a Strategic Partnership with Cristacurva Advanced Technology Glass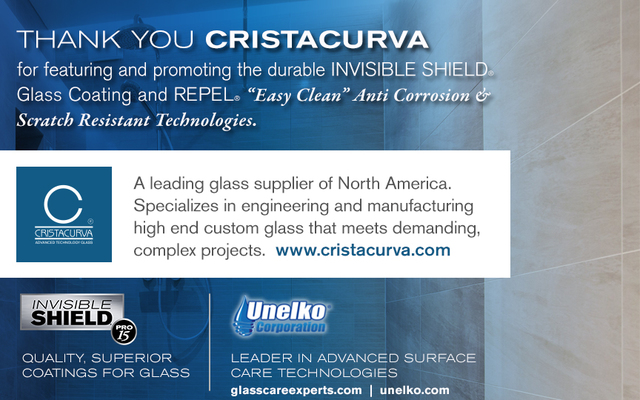 Scottsdale, AZ—Unelko Corporation has just entered into a strategic partnership with Cristacurva, an Advanced Technology Glass company. Cristacurva has their American headquarters in Houston, TX and their corporate headquarters in Mexico City.
Cristacurva is known for their unmatched glass design, service and quality, noted Bill Lebowitz, Unelko's Chief Operating Officer. Cristacurva also specializes in engineering and manufacturing high end custom glass that meets the needs of demanding, complex projects.
Glass can be difficult to clean and requires costly restoration, repairs or replacements-especially if these beautiful projects are left unprotected in the field. It's inevitable that the elements can cause irreversible damage to glass by soiling, staining, pitting, etching and scratches. As Lebowitz noted, Unelko's Invisible Shield® PRO 15 Glass Coating Technology became a clear choice for Cristacurva because it provides 92.9% improved scratch resistance, anti corrosion and "preservation" benefits.
By using the Invisible Shield Protection System at the beginning stage in fabrication, Cristacurva can now guarantee years of improved appearance.
As Barry Dawson, Vice President of Sales for Cristacurva noted, the exceptional quality of Unelko's products, combined with their unmatched value, has allowed Cristacurva to be more competitive in the commercial glass market.
Unelko has decades of experience in surface coating technology and continues to partner with global glass manufacturers, fabricators, installers and end users.
At Glassbuild America 2018 in Las Vegas, NV, please visit Unelko's Invisible Shield Booth booth 850.
About Unelko Corporation:
Recognized as the world leader in Advanced Glass Care Technologies, Unelko has focused on the preservation, enhancement and "preventive cleaning" of residential and commercial glass including architectural glass, facades, windows, partitions, walls, skylights, shower doors, tile and other vitreous china, solar, automotive, aeronautical and marine glass applications.
For more information, please visit
http://www.GlassCareExperts.com/
,
http://www.unelko.com/
,
https://www.linkedin.com/company/4026707/
or
https://twitter.com/CleanXHome
.
Media Contact:
Heather Ohlhausen
Unelko Corporation
14641 N. 74th St.
Scottsdale, AZ 85260
480-991-7272
https://www.linkedin.com/in/heather-ohlhausen-38686926/