VantagePoint Software Donates $10,000 to Shriners Hospitals for Children at Fall Power Trader Seminar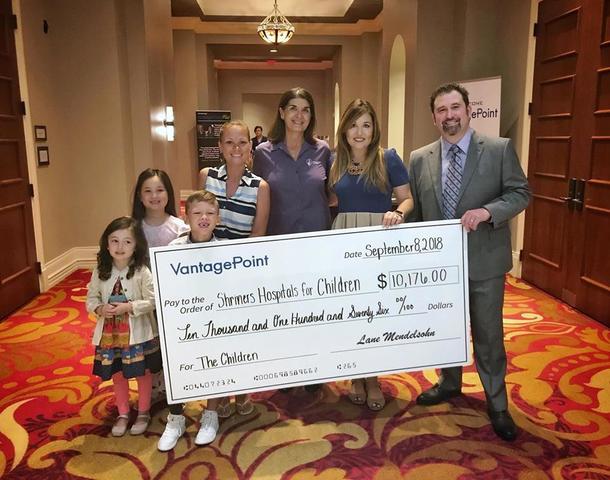 VantagePoint, the first artificial intelligence trading software available to retail investors and traders, presented a $10,000 check to Shriners Hospitals for Children -Tampa at the company's semi-annual Power Trader Seminar this past weekend.
In addition to regular, ongoing financial contributions, VantagePoint presented a giant check representing a lump sum of over $10,000 to Shriners Hospitals for Children - Tampa at their Fall Power Trader Seminar held over the weekend in Tampa, FL. This now marks the second time that they presented a giant check to Shriners at a customer seminar, the first time being the Spring Power Trader Seminar earlier this year.
VantagePoint first formed its partnership with Shriners Hospitals for Children - Tampa in July of 2017. Since then, the family owned, and operated trading software company has been donating a percentage of its software sales to Shriners on a regular basis.
"It's hard to believe that it has been over a year since we first formed our partnership with Shriners Hospitals for Children. This has been such a rewarding partnership for everyone involved, from the patients, to the employees of VantagePoint and the customers who help make this possible." said President Lane Mendelsohn.
"We are delighted to be working with the VantagePoint team," said Alicia Argiz-Lyons, development director for Shriners Hospitals for Children - Tampa. "Their generous donations not only transform the lives of children but also serve as an example of how cause marketing makes good business sense."
The partnership between VantagePoint and Shriners Hospitals for Children has been an overall success, and both organizations plan to continue to work together to make a positive difference in the lives of the children. VantagePoint and the Mendelsohn family have invested over $629,634 back into the community since 2007.
Learn more at
https://www.vantagepointsoftware.com/
or by calling 800-732-5407.
About Shriners Hospitals for Children - Tampa
Nearly 60,000 children have received pediatric orthopedic specialty care in a family-centered environment at Shriners Hospitals for Children – Tampa since its opening in October 1985. Shriners Hospitals for Children – Tampa continues to focus on providing the highest quality care to children regardless of the family's ability to pay and relies on the generosity of donors to sustain its mission. Located on the University of South Florida campus, the Tampa location is a major referral center for complex and highly specialized orthopedic treatment for children throughout Florida and South Georgia. Visit
https://www.shrinershospitalsforchildren.org/tampa
for more information. "Like" us on Facebook at
www.facebook.com/SHCTampa.
Follow us at
https://twitter.com/SHCTPA.
About Market Technologies
Headquartered in Wesley Chapel, Fla., Market Technologies, creator of VantagePoint Software, is a pioneer and leader in trading software research and software development. VantagePoint forecasts Stocks, Futures, Forex, ETFs and cryptocurrencies with proven forecasting accuracy of up to 86%. Using artificial intelligence, VantagePoint's patented Neural Network processes predicts changes in market trend direction up to three days in advance, enabling traders to get in and out of trades at optimal times with greater confidence.
MEDIA CONTACT
Jen Aquilino
Communications Specialist
JenA@vantagepointsoftware.com
8139730496
Lisa Buie
Marketing and Communications Manager
Shriners Hospitals for Children - Tampa
lbuie@shrinenet.org
813-624-5355
Email Market Technologies