Lee Feldman and Gina Browne Named to List of the Top 25 Plaintiff's Employment Lawyers in State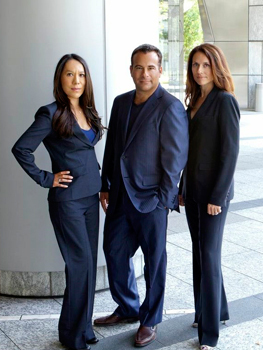 Lee Feldman and Gina Browne Named to List of the Top 25 Plaintiff's Employment Lawyers in State by the Daily Journal, California's Leading Legal Newspaper
September 19, 2018 - Feldman Browne Olivares, APC, was the only law firm representing employees to have two of its partners named to the Daily Journal's list of California's top Labor and Employment lawyers.
Only approximately 25 plaintiff's-side lawyers are named annually as the best lawyers in California in the Employment Law field. Lee Feldman is one of only a handful of California lawyers representing workers and victims to have made the list in each of the past six (6) consecutive years. Gina Browne made the list for the second time this year.
In 2018, Feldman Browne Olivares led the fight for just compensation for the victims of gender discrimination, unequal pay, sexual harassment and sexual assault, representing numerous women in high profile #MeToo cases and recovering tens of millions of dollars from Fortune 100 companies, predatory celebrities, Hollywood power brokers, and other Entertainment industry and corporate elites. Feldman Browne Olivares is panel counsel for the #TimesUp Legal Defense Fund and the Women in Film sexual harassment helpline. The firm takes pride in its reputation for empowering the powerless and aggressively pursuing justice on behalf of its clients, regardless of the size or wealth of the defendant.
In 2018 Mr. Feldman and Ms. Browne also successfully sued large corporations and government entities for violating the rights of disabled workers, winning millions of dollars for California workers and prompting changes in policies that will benefit numerous disabled workers in the future.
All 3 Feldman Browne Olivares Partners Named to the 2019 Edition of Best Lawyers in America
Lee Feldman, Gina Browne and Alicia Olivares were all named to the 2019 Edition of Best Lawyers in America. According to US News & World Report, "Best Lawyers is the oldest and most respected peer review publication in the legal profession. Recognition in Best Lawyers is widely regarded by both clients and legal professionals as a significant honor, conferred on a lawyer by his or her peers."
In each of the last six (6) years, Feldman Browne Olivares, APC, has also been named by U.S. News & World Report as one of the Best Law Firms in America for labor and employment law, awarding the firm its highest "Tier-1" ranking for representing workers in employment law disputes.
About Feldman Browne Olivares
Feldman Browne Olivares exclusively represent California employees. Through aggressive litigation, Feldman Browne Olivares has recovered more than $125,000,000 in verdicts and settlements over the past five (5) years on behalf of workers and their families, including more than thirty (30) seven figure awards.
Located in Los Angeles, California (12400 Wilshire Blvd.), our firm has been recognized as one of the top Employee Rights Firms in California and our Partners and Attorneys have been repeatedly recognized as top Employee Rights Attorneys.
To schedule a meeting with an experienced Los Angeles Labor & Employment lawyer, contact our office online or by phone. Toll Free: (800) 350-0454 and in Los Angeles: (310) 207-8500.
Email Feldman Browne Olivares