Pharma & BioTech Enhanced Conceptual Process & Innovation Thought Leaders Exhibit at ISPE Boston Product Show 2018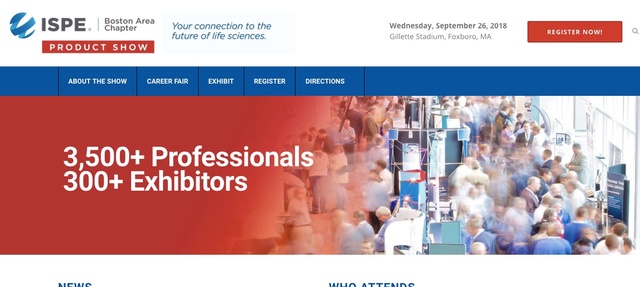 Boston, MA
- The pharmaceutical and biotech industry is under pressure to adapt to new regulations to meet the needs of innovative manufacturing environments.
Four of the top thought-leaders and innovating companies in pharma and biotech will be showcasing their solutions at ISPE Boston Product Show, on September 26, 2018 at the Gillette Stadium, Foxboro, MA:
Environmental Systems Corporation (Critical Environments & Cleanrooms)
Turnkey Modular Systems Inc (Custom Modular Process systems in High Purity Application)
GMP Engineering (Process engineering, facility design and regulatory compliance)
BioAcuity Consulting Inc (Expert Consultants for GMP, GLP, , and GCP compliance)
All four companies are excited to be joining forces and co-presenting at Booth #E53 at ISPE Boston Product Show 2018.
"ESC is excited to be at the ISPE Boston event again this year, showcasing the value and innovative we bring to Cleanrooms, Critical Environments and Integration through our design, build and manufacture of solutions." said Aaron Styles, VP of
Environmental Systems Corporation (ESC)
.
"We look forward to again, being a part of the ISPE Boston Product Show, and talking to clients about our capabilities to design and construct custom modular process systems for the Pharma and Biotech Industries " said Mike Hallman, President of
Turnkey Modular Systems Inc.
(TKMS).
"Our clients enjoy working with our boutique process engineering firm to meet strict regulations in pharma and biopharma industries, with fast-paced deadlines," said Sam Lombardo, President of
GMP Engineering
.
"This is a great event and we're thrilled to co-present with these three exceptional companies. BioAcuity's team, of operations & quality management, manufacturing, capital projects, and GMP, GLP, GCP subject matter experts, is focused on producing and implementing practical solutions and results to ensure our Bio/Pharmaceutical clients achieve their compliance, production, and business objectives." said John Rydall, President of
BioAcuity Consulting Inc.
Contact Chris Adams
Chris@e-s-c.com
-30-
About Environmental Systems Corporation
Environmental Systems Corporation designs critical environments and builds cleanrooms to ISO 14644 4, 5, 6, 7 & 8 Requirements. Our custom manufacturing of the air handling systems for critical environments gives us the advantage of understanding one of the most important aspects of the cleanroom; the close tolerance control of temperature, humidity, air changes and cleanroom pressures to provide cascading pressure differentials.
About Turnkey Modular Systems Inc.
Turnkey Modular Systems Inc. (TKMS) was formed to provide the design and supply of custom modular process systems for high purity applications. Our focus is to provide a high level of technical and engineering expertise for the biotechnology, pharmaceutical, food and cosmetic industries.
We offer a standard line of Clean-In-Place systems, Bio-Waste Decontamination systems, Continuous Sterilization systems, Temperature Control Units, as well as custom designs for other modular process applications.
About GMP Engineering
GMP Engineering is a unique process technology-rooted engineering company adhering to the standards of current Good Manufacturing Practices (cGMP). We use our expertise to provide customer-driven solutions specializing in hygienic, sterile and high containment process equipment design and validation.
Our company has comprehensive project capabilities to manage and execute feasibility studies, conceptual design, preliminary engineering, detailed design, construction administration, commissioning and qualification.
About BioAcuity Consulting Inc
BioAcuity Consulting Inc. specializes in providing development, manufacturing, operations, quality, compliance and regulatory consulting services to manufacturers of plasma protein therapeutics, biologics, drug, medical device, natural health, and other healthcare products for human and veterinary use.
We provide consulting services based on in-depth knowledge and thorough understanding of FDA, Health Canada, European, and Asian regulatory requirements and guidelines. Our understanding of the realities of the industry complexities enables us to help our clients make the right decisions while balancing business, scientific, and regulatory requirements.
Email ESC Environmental Systems Corporation