Intrafocus announces that QuickScore™ is available in French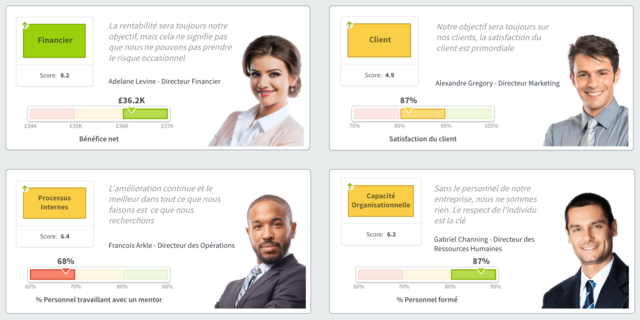 QuickScore
™ is the world's most acclaimed KPI management and balanced scorecard software. Its success is largely due to its intuitive interface and visual dashboarding capabilities. Originally only available in English, a Spanish version was released thus providing coverage for most of the western world. Last year Arabic was added much to the delight of many existing customers in the Middle East.
In a continuing effort to serve the world's population in native languages, French has been added to the language portfolio. "We are delighted that the application now supports French" comments Clive Keyte, Director at Intrafocus, the Europe Middle East and Africa reseller of QuickScore™, "not only will it mean we can provide a better application to our neighbour France, but many of the African nations will benefit as well."
Although using the application is intuitive, picking a set of reporting measurables that are essential and which will not overwhelm the reader can cause 'analysis paralysis'. For large and complex organisations, a single dashboard with supporting functional-level dashboards can be a good way to split up data and to ensure that different groups only receive the information which really matters to their role and span of decision-making control.
The actual preparation of month end will involve each department collecting and submitting agreed data sets which track progress against key, strategic deliverables. This is done by inputting the latest figures into a software package such as QuickScore, which takes this raw data and automatically processes it into a reporting template. So having a native language version certainly helps.
About Intrafocus
Intrafocus
is a business performance management consultancy and software reseller. The software, provided by Spider Strategies®, is a KPI and scorecard management system linking KPIs to goals, strategic objectives, and initiatives or projects. Intrafocus runs balanced scorecard and strategy workshops to help organisations build, implement and manage strategy. The software is used by companies, large and small, across the world. The software can be easily integrated into any strategic planning process or added later as a management tool.
Intrafocus supplies QuickScore™ and Scoreboard™ to Europe, The Middle East and Africa. QuickScore and Scoreboard are registered trademarks of Spider Strategies®.