ESC Environmental Systems Corporation & Turnkey Modular Systems Inc to Exhibit at ISPE Philadelphia 2018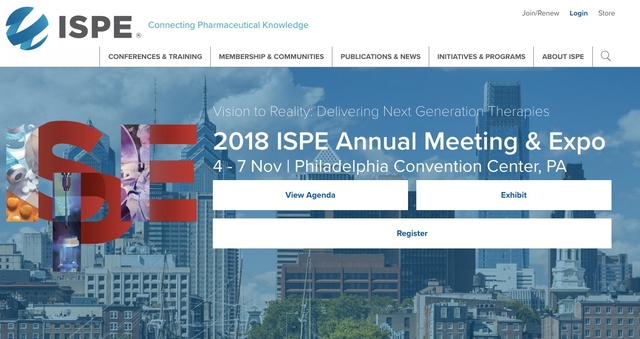 Philadelphia, PA - The ever-changing pharmaceutical and biotech industries are evolving at an unprecedented speed, which is accelerating the need for real thought-leadership and innovation.
Two such innovators in both respective industries will be showcasing their solutions at the 2018 ISPE Annual Meeting & Expo, on 4 - 7 Nov at the Pennsylvania Convention Center in Philadelphia, PA:
Environmental Systems Corporation (ESC) - Critical Environments & Cleanrooms
Turnkey Modular Systems Inc
- Custom Modular Process systems in High Purity Application
Both companies are elated to be taking part in this year's event, and they will be located at Booth 1138 & 729 Booth respectively.
"We look forward to the ISPE event each year, and this year's expo in Philadelphia is certainly no exception. We're excited to network with industry experts, and discuss what the future of Cleanrooms and Critical Environments will mean for the industry." said Aaron Styles, VP of Environmental Systems Corporation (ESC).
"This year's event theme is Vision to Reality: Delivering Next Generation Therapies. That's perfect, because we are always looking ahead to the next generation of modular process systems for the Pharma and Biotech Industries," said Mike Hallman, President of Turnkey Modular Systems Inc. (TKMS).
About Environmental Systems Corporation
Environmental Systems Corporation designs critical environments and builds cleanrooms to ISO 14644 4, 5, 6, 7 & 8 Requirements. Our custom manufacturing of the air handling systems for critical environments gives us the advantage of understanding one of the most important aspects of the cleanroom; the close tolerance control of temperature, humidity, air changes and cleanroom pressures to provide cascading pressure differentials.
About Turnkey Modular Systems Inc.
Turnkey Modular Systems Inc. (TKMS) was formed to provide the design and supply of custom modular process systems for high purity applications. Our focus is to provide a high level of technical and engineering expertise for the biotechnology, pharmaceutical, food and cosmetic industries.
We offer a standard line of Clean-In-Place systems, Bio-Waste Decontamination systems, Continuous Sterilization systems, Temperature Control Units, as well as custom designs for other modular process applications.
Email ESC Environmental Systems Corporation