BarCamp Cultivates Tampa Bay's Grassroots Tech Community for 11th Year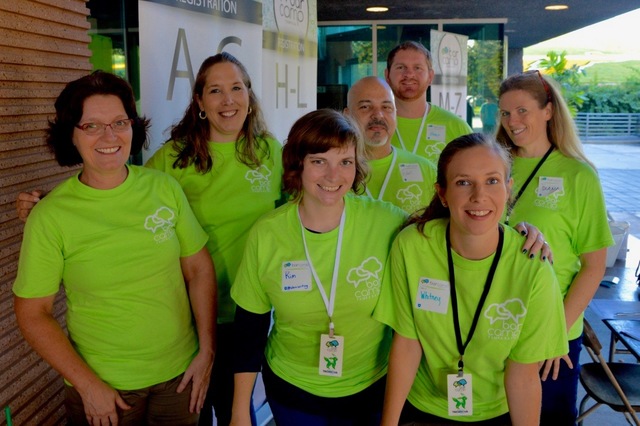 November 9, 2018
[Tampa, FL] - Robust tech ecosystems have two key components, a steady flow of new products and a deep pool of technology professionals. For the 11th straight year,
BarCamp Tampa Bay
, a unique technology-focused (un)conference, will serve as an intersection point of the people who create and deploy emerging technology industries in and around central Florida. On Saturday, November 10th at 8 AM, the event that promotes itself as "For Geeks, by Geeks," will host 70+ breakout sessions featuring a wide range of talks on software & hardware development, coding, cybersecurity, machine learning, 3D printing & prototyping, virtual & augmented reality (VR / AR), robots, drones, autonomous vehicles, Internet of Things (IoT), UX / UI / CX, startup logistics & investing, growth hacking, tech ecosystem growth, and much more. This year's BarCamp Tampa Bay will be held in the west wing of the University Mall located at 2127 E. Fowler Ave., and coincides with the start of
Global Entrepreneurship Week (GEW)
an annual worldwide celebration of the people who start and grow new business ventures.
Support for BarCamp Grows:
As it has for the past 10 years, BarCamp Tampa Bay is made possible due to the generosity of the (mostly) local technology businesses that make up the backbone of our emerging tech ecosystem. "The combination of returning sponsors along with the backing of many newer companies validates that this type of peer to peer collaboration event is as relevant today as it was when we started back in 2008," said Joy Randels, event co-organizer and Director of TechNova the 501(c) 3 organization that hosts BarCamp Tampa Bay, Ignite Tampa Bay, and "Day of" tech education workshops. This list of sponsors includes:
Petabyte Sponsors:
SourceToad Development
(ISC)2
FairWarning
KnowBe4
Tampa Innovation
Terabyte Sponsors:
Accusoft
The Jim Moran Institute for Global Entrepreneurship
Applied G2
Trifecta Networks
Evolution Advisors
Ruckus Wireless Networks
Gigabyte Sponsors:
Hivelocity Hosting
Callyo
Hunter Business Law
Clearly Agile
Haneke Design
Agile Thought
SecureSet
3d Media Lab Solutions
The Florida High Tech Corridor
Tech Data
Redhat
Trend Micro
Full Stack Talent
Dabble Lab
Tangible Labs
We thank these companies for what they do for our tech community and for the hundreds of skilled technology professionals that are encouraged to attend and speak at BarCamp to help grow our region. BarCamp is not only and an educational event but we hear year after year that it is a morale booster as attendees say they feel more connected to their fellow techies and when that happens we see great things in the way of new products and startup companies.
It's Bigger than just Tampa Bay:
Fueling growth in the grassroots technical community and increasing our talent pool is an economic development imperative for the region and the state. Early indications are that the much-heralded Amazon's HQ2 project will be split between two metropolitan areas since no one region could provide the level of available tech talent needed to support this initiative. Developing our base of raw technology talent which is increasingly not just advanced degreed individuals, but 2-year degrees and a wide range of professional certificate programs and hands-on apprenticeship programs is required to build and sustain a viable tech-driven ecosystem. BarCamp, it's volunteers, attendees, and sponsors represent the diverse mix of skilled technology and business professionals who are committed to fostering this growth.
About BarCamp Tampa Bay
:
BarCamp Tampa Bay is an annual event with attendance growing from 120 to over 1000 people from as far away as Orlando, Sarasota, Miami, and Jacksonville; as well as from across the country and Canada. Bringing together the best, brightest, and most interesting of Tampa Bay's technology and new media professionals, BarCamp Tampa Bay showcases the talents and unique projects being developed in and around the Tampa area.
About TechNova Florida, Inc.:
TechNova Florida, Inc. is dedicated to growing the local tech community by operating at the grassroots level, helping people to learn, share and make real connections. We believe that to build a robust technology ecosystem people must be educated on new and emerging technology, develop new products, start new businesses and become resources for one another. TechNova produces events to aid in achieving this mission such as BarCamp Tampa Bay, Ignite! Tampa Bay, and "Day of" technology workshops, web and technology Meetups, in addition to sponsoring and supporting other endeavors that share our vision of an open and collaborative tech ecosystem. TechNova is a 501c3 non-profit organization based in Tampa, Florida.
Email Technova Florida, Inc.