AFuzion's new CAST-32A Multi-Core Processing Training Launched to Wide Acclaim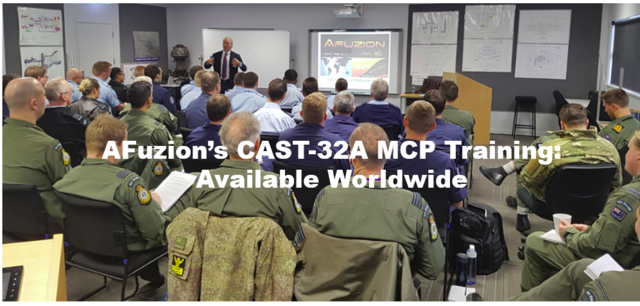 AFuzion's new CAST-32A Multi-Core Processing for Avionics and Safety-Critical developers has launched with strong acclaim. The future of embedded processing is via multi-core processors as the need for added processing power has surpassed the ability of CPU's to keep up. However, multi-core processors utilize shared cache, shared memory, and shared communications I/O. This sharing between the MCP cores produces potential interference which can violate the very "determinism" requisite for certifiable safety-critical systems. For example, avionics DO-178C and DO-254 require adherence to CAST-32A, recently updated by the worldwide Certification Authorities Software Team (CAST).
CAST-32A is the worldwide (America, Europe, Asia) team's effort for ensuring safe implementation of Multi-Core Processing (MCP) within avionics systems. Increasingly, MCP's are used in avionics and understanding what must be done to plan for, implement, and verify deterministic "safe" MCP development via CAST-32A is the focus of this AFuzion 2-day private training course. Attendees will understand how to utilize multiple-cores providing simultaneous operations using deterministically shared resources such as cache, memory, and communications and performing MCP CAST-32A Interference Analysis. Attendees will also learn how to work with RTOS vendors and RTOS's themselves to comply with CAST-32A and develop safer avionics.
Mr. Vance Hilderman, AFuzion's CTO and principal developer of AFuzion's CAST-32A training states "CAST-32A is increasingly relevant to avionics developers but users find it vague and challenging to understand. AFuzion's 2-day CAST-32A Training teaches attendees how to properly understand, deploy, and verify MCP-based applications. AFuzion's training was recently provided with our industry partner Lynx Software to 45 senior MCP developers in Huntsville Alabama and it was a resounding success; all the attendees stated it was highly worthwhile and crisply delivered to provide a true practical understanding of CAST-32A deployment for avionics via DO-178C and DO-254. AFuzion's actual trainers have trained over 19,500 engineers from all 100 of the world's 100 leading avionics companies, which is more than all other trainers in the world, COMBINED." AFuzion's CAST32A training syllabus is summarized below, with full details at AFuzion's website.
Click Here for CAST-32A Training Syllabus
KEY FEATURES of AFuzion's MCP & CAST-32A Training for Avionics and DO-178C / DO-254:
• CAST-32A Introduction
• Summary of DO-178C, for Multi-Core usage
• RTOS Introduction & Scheduling, Processes, Tasks, and Threads
• MCP What & Why
• DO-178C & MCP – Plans, Standards, Activities
• CAST-32A MCP Robust Partitioning Principles
• RTOS Specifics – Technical Info
• DO-254 & MCP
• MCP Cert, Deadlines, Benchmarks & Reports
• Overview: IMA, ARP4754A, ARP4761 & MCP
• IMA & CAST-32A Modules and Partitioning
• DO-178C's & MCP Requirements, Design & Verification -
• MCP & CAST-32A Best Practices for Planning, Testing, & Certification
• MCP & CAST-32A WCET Mistakes & Best Practices
For additional free CAST-32A Training, see AFuzion's new free whitepaper "
Understanding CAST-32A
available for free download here:
Click here to download