GreenRope Partners With PieSync Offering A Two-Way Sync Between GreenRope And Your Favorite Apps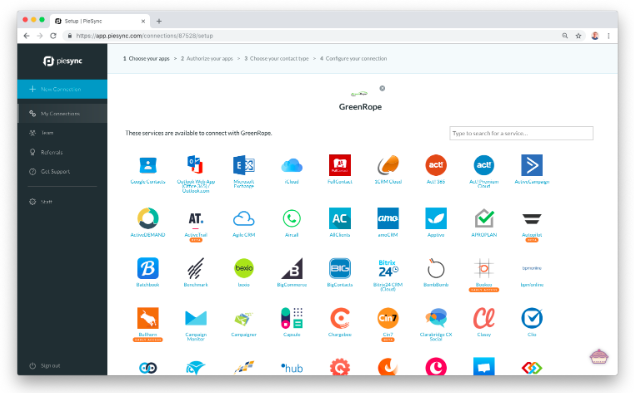 SAN DIEGO, CA - December 13, 2018: GreenRope, a leading sales, marketing, and customer service SaaS provider, announces the launch of their partnership with PieSync, a two-way syncing solution allowing businesses to easily connect all of their SaaS-based applications and unify their departments.
"There is nothing more important than clean, up-to-date, realtime data," explains Marketing Director, Alessandra Gyben. "The GreenRope-PieSync partnership gives our users more options for syncing their data between GreenRope and the app they use everyday. This will also be an incredibly helpful application to assist with data transfers when switching over to GreenRope."
Benefits of the PieSync-GreenRope Partnership include:
Save time on data entry
No more importing/exporting of contacts between apps
Mobile updates and reporting
Easily share data across your entire team
PieSync's intelligent two-way syncing matches and synchronizes customer data across your connected apps. The data gaps between sales, marketing and customer care are removed, allowing you to get the most out of your customer data.
PieSync is easy to use and helps build your business by ensuring up-to-date data accuracy, improving customer experience and overall productivity. To learn more about GreenRope's integration with PieSync,
click here.
Visit GreenRope
About GreenRope
Since 2008, GreenRope's mission has been to resolve the challenges of managing business operations by providing cloud-based integrated software that is effective, affordable, and user friendly. GreenRope streamlines key operations, including e-commerce and accounting, CRM, email marketing, mobile marketing, calendaring, websites, social media and more, into one easy-to-use platform. By using GreenRope, companies can reduce their marketing and CRM software expenses by an estimated 80%. GreenRope's affordable pricing plans start as low as $149/month. Visit
www.greenrope.com
for more information.