Waste360 Launches the Waste360 Business Growth Forum to Help SMBs Take Their Businesses to the Next Level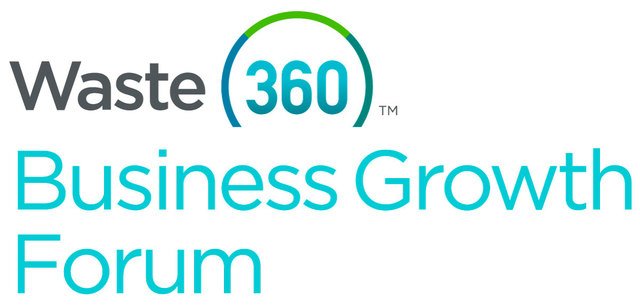 Offers insights, tools and resources for developing effective and efficient business and financial strategies
New York, December 18, 2018 –
Waste360
, the leading information, event, and education provider to the solid waste, recycling and organics communities, today launches the
Waste360 Business Growth Forum
. The Forum is designed for small, rising middle market and regional environmental services companies looking for business, growth and financial strategies that go beyond day-to-day operations. The half-day seminar is scheduled for Wednesday, May 8, 2019 at the Renaissance Hotel in Las Vegas, Nevada and is co-located with
WasteExpo
.
Structure and strategy are two of the most important factors in running a successful business. During the Waste360 Business Growth Forum, sponsored by Comerica Bank, attendees will gain access to insights, tools and resources for developing effective and efficient business and financial strategies that provide companies in the solid waste and recycling industry with better options and smarter choices to take their businesses to the next level.
Mark Hickey, Vice President, Waste360 said, "Waste360 is delighted to launch the Business Growth Forum. Over the years, many of the industry's small to mid-sized companies have told us they are seeking solutions and education to take their businesses to the next level. This Forum was created for those organizations looking to scale their businesses. We look forward to working with Comerica on this inaugural event at WasteExpo."
The Forum will discuss the following topics:
Economic Overview
Bank Financing
Private Equity
Asset Management Mergers and Acquisitions
Growth Success Stories
"The Business Growth Forum will provide participants valuable perspectives on managing sustained profitable growth, mitigating risk and enhancing shareholder value," said Joe Ursuy, Comerica Bank Senior Vice President, Environmental Services Department. "Along with our longtime partner, Waste360, we look forward to presenting this exciting educational session geared towards promoting development and success for emerging small and mid-sized environmental services companies."
Click here
to learn more about the Waste360 Business Growth Forum.
WasteExpo, North America's largest solid waste, recycling and organics industry event, will take place May 6-9, 2019 at the Las Vegas Convention Center. To register to attend,
click here
.
For more information on WasteExpo, please visit
WasteExpo.com
or follow WasteExpo on Twitter at
@Waste_Expo
.
About the Waste360 Group


The Waste360 Group harnesses the power of its many properties to serve the solid waste and recycling industry. The industry widely consumes this content in the form of websites, live events, online learning and digital opportunities and more and includes: Waste360.com, WasteExpo, The Global Waste Management Symposium and topical and timely eNewsletters including Waste360 Daily Wire. For more information, visit
www.waste360.com
.
About Comerica Bank
Comerica Incorporated (NYSE: CMA) is a financial services company headquartered in Dallas, Texas, and strategically aligned by three business segments: The Business Bank, The Retail Bank, and Wealth Management. Comerica focuses on relationships, and helping people and businesses be successful. In addition to Texas, Comerica Bank locations can be found in Arizona, California, Florida and Michigan, with select businesses operating in several other states, as well as in Canada and Mexico.
About Informa
Informa PLC is a leading, international business to business information services Group, operating in over 30 countries. We create transaction-led exhibitions and content-based events, specialist data, intelligence and marketing services products, as well as scholarly research and specialist reference-led academic content. Our products and services help businesses and professionals connect, learn, do business and gain an edge over the competition. Informa is listed on the London Stock Exchange and is a member of the FTSE 100.