Corporate Finance Associates Advises Spectrum Relocation Group, Inc. in the Acquisition of Ten Companies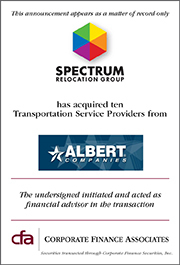 Los Angeles, CA
– Corporate Finance Associates (CFA) a leading middle-market mergers and acquisitions firm, announced it initiated and acted as the exclusive financial advisor to Spectrum Relocation Group, Inc. in its recent acquisition of ten subsidiary companies from Albert Companies, Inc.
Spectrum Relocation Group, Inc., through its wholly-owned subsidiaries, provides domestic and international relocation services for residential, commercial, industrial, government, and military customers. Headquartered in El Paso, Texas, Spectrum has moving and storage service centers throughout Texas – Austin, El Paso, Killeen, San Antonio and Waco – plus international forwarding offices in Miami, Florida and St. Louis, Missouri.
Albert Companies, Inc. is a Delaware corporation owned by its ultimate parent company, ArcBest Corporation (ARCB: NASDAQ). ArcBest® is a leading logistics company delivering integrated solutions for a variety of supply chain challenges.
Transaction Information
Terms of the transaction were not disclosed. Companies acquired in the transaction included: (i) Albert Container Concepts, L.C., a Texas limited liability company, (ii) American Intercoastal Movers, Inc., a Nebraska corporation, (iii) Albert Furniture Co., (iv) Andrews Forwarders, Inc., a Nebraska corporation, (v) Andrews Van Lines, Inc., a Nebraska corporation, (vi) Beck Forwarding Company, Inc., a Texas corporation, (vii) Clark Forwarders, Inc., a Virginia corporation, (viii) James Forwarding Company, Inc., a Texas corporation, (ix) Jason Forwarding Company, Inc., a Texas corporation, and (x) Midwest Moving & Packing, Inc., a Nebraska corporation.
Financial representation for Spectrum Relocation Group was provided by the San Antonio Office of Corporate Finance Associates, led by Managing Directors Roy Graham and Eduardo Berdegué. When asked about the transaction, Mr. Graham commented, "it was a pleasure working with the owners of Spectrum Relocation Group to help them significantly expand their authority to transport household goods under the US DOD Personal Property Program".
About Corporate Finance Associates
Corporate Finance Associates is a major investment banking services firm, with offices across North America and partner offices in Europe, Asia and South Africa providing middle-market companies with a wide range of financial advisory services and access to capital resources. From project inception to completion, a senior principal guides clients through every challenge, advocates on their behalf, and leverages CFA's experience and extensive resources. More information is available via the Internet at
www.cfaw.com
.
Email Corporate Finance Associates