Protera Technologies Offers a Self-Service Assessment Tool to Help Businesses Plan Their SAP Migration to SAP HANA and SAP S/4HANA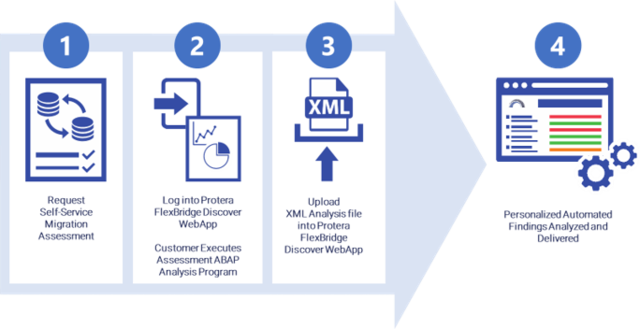 Chicago, Ill.
– Protera Technologies, a leading global SAP® partner, is pleased to announce its FlexBridge SAP Migration Self-Assessment Tool. Using a business's own SAP landscape data, the assessment tool analyzes the organization's existing SAP environment and provides a detailed report outlining current performance and usage metrics; then it makes recommendations for a strategic SAP migration plan. Specifically, the assessment provides:
Project alternatives, example timeline, and baseline effort estimates
Customization remediation list with complexity analysis
Technical configuration assessment covering OS, DB, and application versions
In three simple steps and as little as an hour, a business can receive a comprehensive assessment report and SAP migration plan. The assessment is available to organizations of every scope and size across a broad range of industries, from consumer products manufacturing to transportation, to aerospace and defense.
Protera's IT Transformation Acceleration Platform for SAP, SAP HANA, SAP S/4HANA, Enterprise Applications, and Cloud Deployments has delivered 100 percent project success for more than 500 migrations.
Protera is one of only a few SAP Global Partners providing total IT outsourcing solutions, and it's among only a handful of global SAP Partners with five SAP® certifications, including:
Application Management Services
Hosting Services
SAP HANA Operations Services
Mobile Operations Services
Cloud Services
Protera has evolved into a pioneer of end-to-end total IT Outsourcing global solutions that cover all IT needs of any global organization. The company is dedicated to creating and delivering innovative business continuity solutions that challenge the traditional industry barriers of scale, cost, and complexity and keep clients connected to their customers, vendors, and employees,
Learn more about why SAP organizations around the world have come to rely on Protera's end-to-end IT solutions at protera.com/why-protera/, then register for an SAP migration assessment.
About Protera Technologies
Protera is a global SAP® partner certified in Hosting, Cloud, Application Management, Global Outsourcing, and SAP HANA Operations Services. It provides comprehensive end-to-end IT solutions for its Managed Services, Managed Infrastructure, and SAP HANA & SAP S/4HANA customers.
Since 1998, Protera has provided vital support to clients in industries ranging from consumer products to transportation, to aerospace, and to defense. Its services include cloud migration, dedicated and cloud hosting services, SAP HANA services, disaster recovery, and more. As one of only a few SAP Global Partners providing Total IT Outsourcing Global Solutions, Protera Technologies provides truly comprehensive solutions to organizations of every size. Visit
www.protera.com
to learn more, or call (877) 707-7683.
Email Protera Technologies, Inc