Audio4fun welcomes all users to explore a VIP Membership and write their own story for this Valentine's Day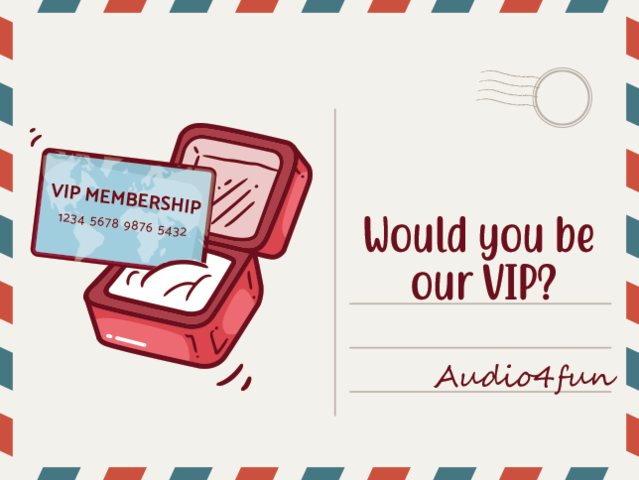 Valentine's Day is coming near. At this time of the year, people are already searching for the most suitable gifts for their loved ones. However, Audio4fun believes that there is no fixed way to prepare a gift, as long as it comes from heart of the sender. Therefore, for this season, the company welcomes all members to enhance the expression of their feelings for their VIP loved ones with a little help from the VIP Membership. More information can be found at
https://www.audio4fun.com/discounts.htm
* To write a great love story, one needs a difference
Talking about love; it is one of the most incredible feelings in the world, and it can be expressed in so many different ways. When expressing love for your partner, there are many classic ways such as chocolate, romantic roses, or love cards. However, it will always be best if that gift is also enhanced with a personal and unique element from the sender. "Having a significant other is just like having a VIP person in your heart. And that VIP person deserves to feel the best sensations of love on Valentine's Day," said Chris R.F., Head of Quality Administration.
"This Valentine season, for the first time during its history, Audio4fun is giving out a huge opportunity for everyone to become a VIP member with ease. By owning a prestigious VIP Membership at Audio4fun, users will be able to make their gifts a lot more amazing and special with all of the necessary audio and video tools," Chris added. The VIP Membership is just like the key that opens the door to the creativity inside each of us. You will be able to write your own Valentine's Day story and design your own love present. It can be a romantic yet fun Skype call with
voice changer
, a box of chocolate with a special speech recorded, or an edited, personal video shown during a sweet, intimate dinner, just to name a few ideas. No matter what the idea is, VIP Membership can provide you will all tools needed for making your amazing gifts.
* What does a VIP Membership provide?
Being a VIP at Audio4fun means that you will own all 9 commercial products of
Audio4fun
along with the extra benefits of a VIP membership. In summary:
Own all of current 9 commercial audio and video products
Longest Full-support period with the highest priority.
Unlimited download, re-download and upgrade for all products available during support time
Unlimited download of all current and new add-on packages
Receive the biggest discount only for VIP members when extending support time.
People usually have slightly different ways of giving and receiving love. However, love is already flowing in the air for this most special holiday, and each person will need to have their own way to figure out how to find the best present for their loved one. Here at the company, Audio4fun believes that the VIP Membership can always help users to prepare that gift much more easily with all of the powerful and best-selling software at hand. To learn more about this VIP Membership, you can visit
https://www.audio4fun.com/discounts.htm