IT Services Firm Provalus to Create Technology Jobs in South East Texas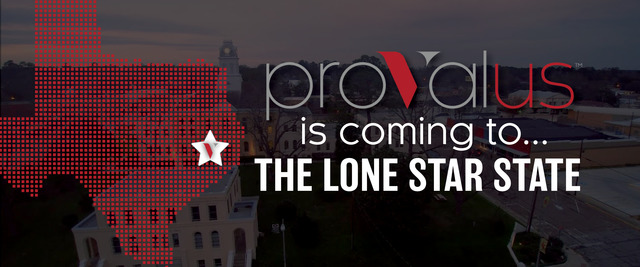 Provalus
, the domestic outsourcing brand of Atlanta-based
Optomi Professional Services,
just announced it will open its 2nd technology center in Jasper, Texas to provide a superior alternative to overseas outsourcing of services. Provalus trains and employs untapped talent in small rural communities for technology, business and support positions.
"We're proud to say our mission is to provide tech careers to bright under-employed individuals, especially in rural areas, and play a part in revitalizing America through job creation," Provalus President, Chuck Ruggiero said.
City of Jasper Mayor Hon. Gary Gatlin commented, "I am so pleased to have witnessed our community working hard together for this achievement and am so proud to have been a part of it. I can see our Jewel of the Forest shining bright again like I've always known it could."
After researching over 50 Texas locations, Provalus narrowed the selection down to two in December and executed the contract with Jasper, TX on January 31, 2019. The main tech building will be the former Peddler's Publication House on the downtown square at 101 E. Houston St., Jasper, Texas 75951. The building will be renovated to accommodate at least 100 employees by 2020.
Dan Walker, President Jasper Economic Development Board of Directors remarked, "I have been intimately involved with economic development in Jasper for over 25 years and I have never seen an accomplishment as meaningful as this one. Jasper's new partner, Provalus, will not only bring many much-needed, high-quality jobs, but their arrival is already providing a rejuvenating spark to our community that is wonderful to see."
The Provalus facility will offer business process outsourcing (
BPO
), information technology outsourcing
(ITO
), and
Support
Services to clients including Fortune 500 - 1000 companies. Executive Director, Jasper Economic Development Corporation, Eddie Hopkins said, "This new relationship has grown through more understanding of their mission and how there will be mutual benefits resulting in the growth of Provalus and Jasper." "We are thrilled to help generate substantial economic growth for the South East region of Texas as we continue our mission to strengthen rural America", Ruggiero added. Projections are to open in March and hire about 30 employees initially.
Provalus' flagship operation, located in Brewton, Alabama, paved the way for this 2nd delivery center and currently employs close to 100 Americans doing everything from SOC Services to Quality Assurance to Application Development to Service Desk support. The Brewton Delivery Center is expected to grow to over 300 Americans in the next few years. "Our growth would not be possible without the support of Brewton, Alabama Mayor Yank Lovelace, the city officials and the citizens of Brewton", Ruggiero commented.
Provalus' parent company, Optomi Professional Services, operates out of Atlanta; Chicago; Dallas; Baltimore/Washington D.C.; Orange County, California; Detroit; Denver; Austin, Texas; and Charlotte. The company was founded nearly six ago and is privately held.
Email Provalus (Outsourcing brand of Optomi Professional Services)