Career Conext Platform Innovates College Career Placement Services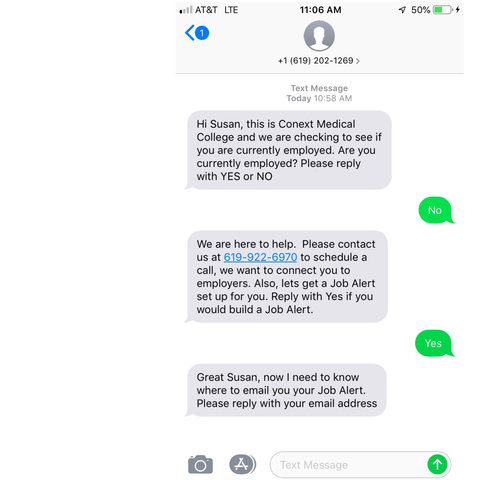 The Career Conext platform simplifies the job placement process by providing a centralized location for students, externs, and employers to connect with all interactions recorded. By utilizing a network of job posting sites, placement counselors can keyword search and one-click add listings to their private job boards for students to view and apply.
"Career Conext has reinvented the way in which our artists find jobs," Career Services advisor, Michelle Martinez of
MUD LA
said. "From one-time events to full-time positions, it has never been easier disburse job postings and find placements for our newly graduated beauty professionals."
To ensure proper placement, all student job board activity is monitored and recorded to analyze interest for a posted position. Employers and placement councilors can see how many times a student has viewed a listing as well as their application status. Placement counselors additionally have the ability to text job alerts to students, linking them directly to the posting within the platform.
To create a strong school-employer relationship, Career Conext has developed employer profiles for schools to invite trusted employers to engage with their student-graduate network. These employers have access to post directly to job boards in addition to viewing student, extern, and graduate resumes.
As a way to simplify the employment process, text message automation allows career services to track graduate employment status and automatically provide job listings to those unemployed (see photo above). This eliminates student-employee friction while helping schools track and meet their gainful employment ratios.
Interested? Email
mcob@careerconext.com
to schedule a demo or visit our
website
!
About Career Conext:
Career Conext is software built for the career and community college space. The Career Conext platform offers software that enhances Student Services, Career Services, and Registrar. Conext is broken into three offerings: Perform, Bridge, and Employ.
Conext Perform takes the data from your SIS and produces visual reporting, identifies opportunities, and spotlights problem areas.
Conext Bridge enables your career services team to create job alerts for graduates with one click from 2.5 million jobs we import every day, getting students the jobs they need by email and text – automatically.
Conext Employ provides a cloud-based job posting services for your employers, extern sites and other organizations who are interested in hiring your students.