Complete home furnishers, Taskers of Accrington, reveal top trends for the home in 2019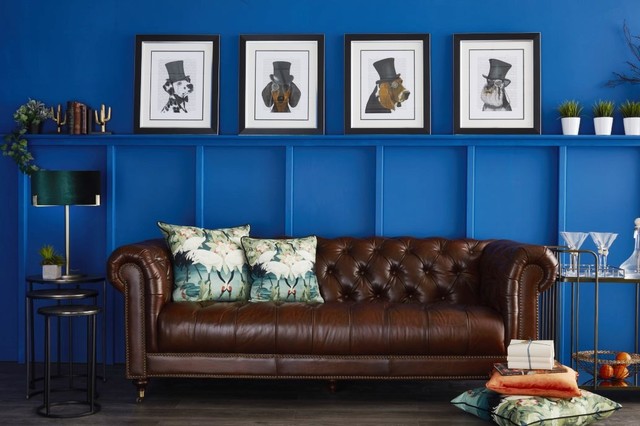 If you're looking to decorate your home but have no idea where to start, then this one's for you. Managing Director, Ivor Lefton, looks ahead and predicts the biggest trends for the home in 2019.
More is More
Minimalism? Leave it in 2018. We predict a huge boom in how people accessorise their homes. Gone are the days when a simple piece of wall art or a petite ornament on a side table would suffice! Fill up your display cabinets, bling up those sideboards and embrace accessories in every room.
Embrace Your Curves
We're seeing a rise in beautifully curved furniture, whether it's your dining table, coffee table or even your sofa. Rolling curves provides a free-flowing atmosphere and are more eye-catching than your typical rectangular table or modular sofa.
Splashes of Colour
2018 has been the year of grey. Top to bottom grey, which looks effortlessly stylish and chic. But in 2019, we're predicting a comeback for bright colours. By all means soldier on with the grey trend, but focus on brightening up the place with pops of colour against neutral settings.
Experiment with Patterns
Angular shapes are great for adding an intriguing element to a home. You can pile on the patterns or focus on one particular shape, it's entirely up to you. There's plenty of angular wall art you can use or go bold by placing a geometric pattern on the floor.
A Friendly Environment
Reclaimed wood furniture is a niche market that is sought after by not only lovers of the environment but by those looking for a warm, homely vibe for any room. The beauty of these pieces is in the natural finish, which gives it a timeless rustic charm and mass appeal for those shabby chic lovers out there.
Mad About Metallics
Nothing says 'glamour' like the shiny sheen of a metallic fabric sofa or a glistening brass ornament. Velvet's were slowly on the rise for 2018, and it's set to take the spotlight for the upcoming year.
An upholstered velvety sofa in particular works not only as a comfortable seat, but it also makes an ideal centrepiece for the living room. Find out more about Taskers of Accrington by visiting
www.taskers.com
.
Email Taskers Of Accrington