Gift Free Monthly Accounts to Loved Ones with PureVPN's B1G1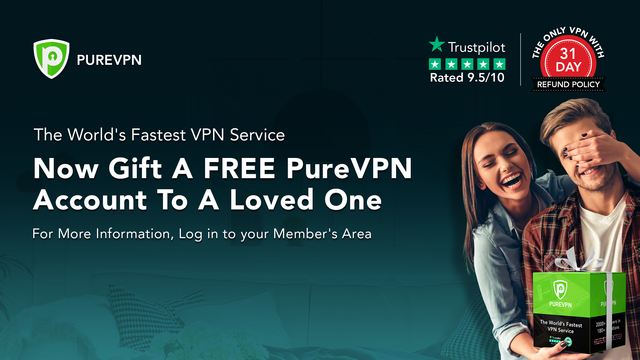 [Hong Kong March 26th, 2019] – Virtual private networks (aka VPNs) are becoming increasingly popular these days, and not without good reason. After all, these tools are effective when it comes to increasing privacy and security on the Internet, courtesy of their robust encryption and other useful features.
Let's face it
– many people still don't know much about VPNs and the different ways in which they can be useful. Therefore, many refrain from using such solutions, but initiatives like PureVPN's Buy One Gift One (B1G1) can make all the difference!
Sharing is Caring
- PureVPN, a trusted name in the VPN industry, is now offering its Buy One Gift One (B1G1) deal which allows existing users to keep their loved ones safe from countless privacy and security threats that lurk online by inviting them for a monthly PureVPN account free of cost!
All they have to do is subscribe to any one of PureVPN's premium plans, and enable themselves to send an invitation for a free monthly account to anyone of their choosing. This can be sent to anyone they want, from friends and family to colleagues and acquaintances.
How to Invite?
Sending an invitation is as easy as 1, 2, 3, and only takes the following steps:
1. Log into the Member's Area.
2. Scroll down a bit and click the red
"Send Invite Now"
button.
3. Choose the account to send invite from and fill out the necessary information i.e. name and email address of the invitee.
4. Then click the red
"Send Monthly Account Invite"
button.
5. The invitation will now be successfully sent.
Other terms and conditions apply for PureVPN's B1G1, and users can learn more about them by referring to this
guide
.