MasterPieces Scores With Classic Sports Action Figure Toys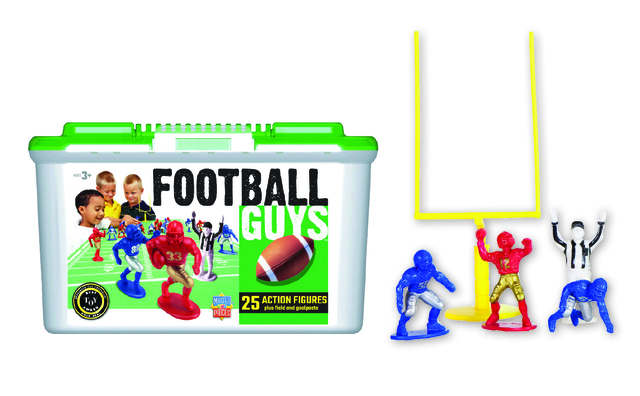 MasterPieces, Inc. today announced a partnership with Kaskey Kids, creator of the wildly popular, classic sports miniature action figures. In the deal, MasterPieces becomes the official maker of the mini
football
,
baseball
,
basketball
,
soccer
and
hockey
role-play figures, and will lead the sales and marketing for the products, which will now be under the MasterPieces brand.
David Rolls, President of MasterPieces, said, "Action figures are a perfect fit as we expand the creative play product offerings. The collections provide unlimited open-ended, imaginative play for kids. We're proud to continue the high-quality craftsmanship and value of the sports guys."
Sports Guys come with various number of plastic players for football, baseball, basketball, soccer or hockey. Each player in any kit is made of durable, nearly indestructible material, and every kit comes in a stackable plastic bin with a handle for portable, on-the-go action and neat storage.
With this addition, MasterPieces adds a new dimension to its toy channel, as well as fortifying its position as the leading provider of sports toys, puzzles and games. The company has long-term success as a licensee with the NFL, MLB, NHL, and NCAA, and its range of sports themed products.
About Kaskey Kids:
In 2002 Christy Kaskey blended her desire to find the perfect toy for her sports loving kids. With the memory she had of her brothers entertaining themselves for hours with action figures of their childhood, such as Army Men, Super Heroes and Cowboys and Indians, she created classic toy action figures from a child's favorite sport.
About MasterPieces:
MasterPieces Inc. was founded by David Rolls, former 8-year professional baseball player for the Kansas City Royals and Texas Rangers organizations, in 1995 with a passion to serve diverse retail markets and partner with evergreen brands and top puzzle artists. Twenty years later, MasterPieces has established itself as the market leader for combining the best quality products with the best value. Headquartered in Tucson, Arizona, MasterPieces reputation for producing innovative and high-quality products has propelled its global growth and the company's commitment to ensuring great value and superior customer support has earned its dedicated, worldwide customer loyalty. MasterPieces creates some of the world most elegant puzzles and innovative packaging, as well as toys and gifts, while also partnering with brands such as John Wayne, Animal Planet, Hershey's, and sports licensing with MLB, NFL, NCAA, NHL organizations. For more information about MasterPieces, visit the company website at
MasterPiecesInc
and to interact with the company, please like and follow MasterPieces on
Facebook
,
Twitter
,
Pinterest
, and
YouTube
.