Environmental Systems Corporation's 4.0 Ready Critical Environments Showcased at Interphex 2019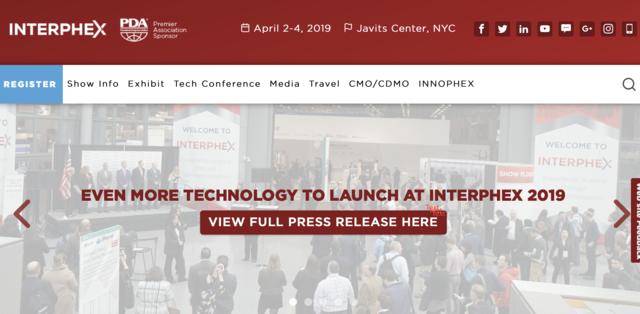 New York, NY - Environmental Systems Corporation continues to establish themselves as a growing presence in the cleanroom sector, and will be showcasing their latest innovations at The Event for Pharmaceutical & Biotech Professionals - INTERPHEX 2019 from April 2-4, 2019, at the Javits Center in NYC.
This year, they are excited to display their latest critical environment technological advances, such as:
Integrated SMARTCRITICAL DISPLAY for relevant critical environment information
Integrated SMARTCRITICAL LIGHTING with visual alarm capability
Rapid Roll Doors
Flexible & Adaptable Flex Ceiling
"We listen to understand the 'Why.' using our enhanced CONCEPTUAL DESIGN (eCD) framework to thoroughly develop the deliverables for project success," said Aaron Styles, VP of Operations, ESC Environmental Systems Corporation, an ISO 9001 company.
Aaron added, "We are thrilled to take part in INTERPHEX again and present the most truly flexible system for controlled environments. We look forward to being surrounded with the industry's forward thinkers and innovators"
ESC Environmental Systems Corporation is the first authorized design build firm representing ALUMA1 and has successfully completed many pharmaceutical and biotech ALUMA1 installations.
"We apply insight, intuition, and the laws of physics to invent simple and uniquely flexible solutions because, innovation is in our DNA, which benefits our clients in meeting their objectives," said Vern Solomon, President, Concepts To Solutions, ALUMA1 manufacturer.
"Come see us at Booth 1333 at INTERPHEX!"
-30-
About ESC
Environmental Systems Corporation designs critical environments and builds ISO 14644 4 to 8 Cleanrooms.
Our custom manufacturing of the air handling systems for critical environments gives us the advantage of understanding one of the most important aspects of the cleanroom; the close tolerance control of temperature, humidity, air changes and cleanroom pressures to provide cascading pressure differentials.
About ALUMA1
The ALUMA1 system has been used in a variety of Life Sciences, Pharmaceutical, BioTech, Nuclear Medicine and Electronics facilities and has met the demands of all regulatory licensing for the FDA, Health Canada, EMEA and GMP facilities.
Their system is infinitely flexible to be configured around any process, personnel or material flow requirements. They received approval of their ALUMA1 Canadian Patent Application 2,754,772 on January 17, 2018. This joins their US Patent 4,630,536, received November 4th, 2014.
About INTERPHEX
Based in New York, INTERPHEX brings over 11,000 global industry professionals and 650+ leading suppliers together to "Learn It, Experience It, Procure It" through a combination of no-cost technical conference, exhibits, demonstrations, and networking events to leverage quality, efficiency and cost-effectiveness in today's ever-changing global market.
Email Environmental Systems Corporation