Delicious Deal As MasterPieces Acquires FANPANs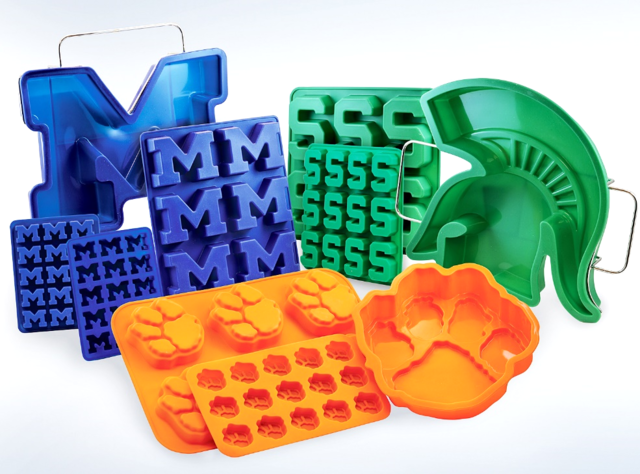 HOT NEWS! MasterPieces, Inc. follows a recipe for success with its acquisition of bakeware specialist, FANPANS, Inc.
MasterPieces is expanding its sports-related product line into housewares by acquiring the popular, uniquely designed FANPANs™ line of silicone, sports team inspired culinary pans and molds.
MasterPieces, which has long-term success as a licensee with the NCAA and professional sports leagues, will immediately go into production for all new NFL, NHL and 40 top NCAA sports team FANPANs.
David Rolls, President of MasterPieces, said, "It's a perfect fit for MasterPieces as we continue to cater to our sports fans with fun, innovative, extremely high-quality products. FANPANs are perfect for serving up a tasty tailgating event, party, or surprising someone with a favorite team logo shaped treat."
The MasterPieces' FANPANs include cake pans, muffin and cupcake pans, ice cube trays and candy molds that will all come in official team logo shapes and colors.
With this addition of FANPANs, MasterPieces continues to fortify its position as a leading provider of sports related products. The dramatic growth in its sports merchandise offerings allows distribution of MasterPieces product throughout the baby and infant; toys and games; and housewares categories.
More About FANPANs:
The 100% FDA approved silicone FANPANs are refrigerator, freezer, microwave, and dishwasher safe; provide direct freezer to oven convenience; withstand temperature ranges of -76F to 450F; and allows for even heat distribution.
About MasterPieces:
MasterPieces Inc. was founded by David Rolls, former 8-year professional baseball player for the Kansas City Royals and Texas Rangers organizations, in 1995 with a passion to serve diverse retail markets and partner with evergreen brands and artists. More than 20 years later, MasterPieces has established itself as a market leader by combining the best quality products with the best value. Headquartered in Tucson, Arizona, MasterPieces reputation for producing innovative and high-quality products has propelled its global growth and the company's commitment to ensuring great value and superior customer support has earned its dedicated, worldwide customer loyalty. MasterPieces creates some of the world most elegant puzzles and innovative packaging, as well as toys and gifts, while also partnering with brands such as Animal Planet, John Wayne, Real Tree, Hershey's, and sports licensing with MLB, NFL, NCAA, NHL organizations. For more information about MasterPieces, visit the company website at
MasterPiecesInc
and to interact with the company, please like and follow MasterPieces on
Facebook
,
Twitter
,
Instagram
,
Pinterest
, and
YouTube
.