Women's History Month: The National Guard pays tribute to Soraida Martinez and her Verdadism Art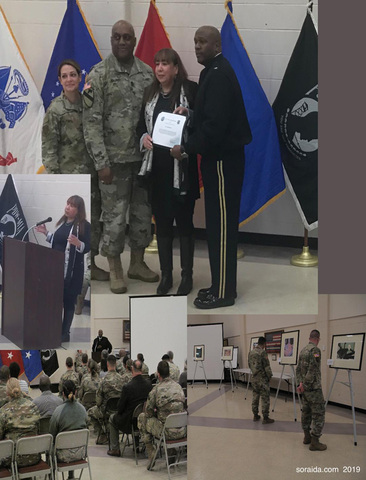 Women's History Month: The National Guard pays tribute to Soraida Martinez and her Verdadism Art. Visionary Women: Champions of Peace & Nonviolence Observance
For Women's History Month 2019, The New Jersey National Guard hosted Soraida Martinez as the keynote speaker for their "Visionary Women: Champions of Peace & Nonviolence" observance. Martinez also held an exhibition of 20 Verdadism paintings and commentaries for the men and women of the New Jersey National Guard to see and discuss. Brigadier General, Jemal J. Beale, presented Martinez with a Certificate of Appreciation for her visionary artwork, which has been promoting social justice since 1992.
Known for advocating the rights of women, Martinez created the art of Verdadism in 1992 to promote a deeper understanding of the human soul and tolerance. According to Martinez, "Verdadism means to empower yourself with your own truth and make social change." Every Verdadism painting that Martinez creates is juxtaposed with a written social commentary from her personal life experiences.
A precursor to the 'me too' movement, many of Martinez's paintings (like "Woman on a String") address the issues experienced by women. According to Martinez, "in 1992 I felt a need to raise awareness of these issues before they got worst."
Woman on a String
"Sometimes I feel that in order to be accepted and to succeed in life I must hang by that male string of American society; because if I don't hang from that string, I will fall to the floor. Like other women, I had allowed myself to be manipulated just for acceptance. Women make up over fifty percent of the population, but for many years we have obviously not been the decision makers. When I did decide to pull off that string, I felt the consequences of being labeled with the derogatory terms that men use to describe independent women who voice their opinions. Woman on a String represents the present status of women in American society."
©Soraida Martinez Verdadism Commentary 1992
Martinez combined the Spanish word for truth, Verdad, with the English suffix for theory, ism, to create the word, 'Verdadism.' For more information, go to soraida.com. To contact the artist, send email to
Verdadism@aol.com
or call 856-346-3131.