Intrafocus Publishes a Seven-Step Strategy Workbook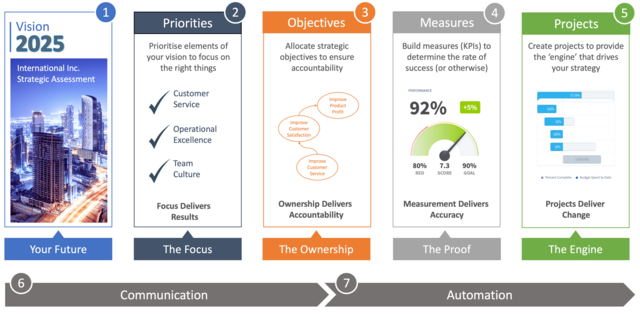 Intrafocus has always been a strategic process advocate. That is, they believe that a strategy will never be successfully implemented unless a strategic process is followed. A quick search using the phrase 'strategic planning process' will provide a plethora of results suggesting Blue Ocean, OKR, Porters 5 Forces, Hoshin and of course the Balanced Scorecard. All of these are valid and can be very helpful.
However, in today's connected world, most of these processes are heavy-weight methodologies that most companies do not have the time or resources to adopt. Consultants at Intrafocus have worked for decades with clients using these processes and has taken the best from each to provide a light-weight seven-step process.
But not only this, Intrafocus has underpinned the process with one of the worlds most advanced KPI Management tools,
QuickScore
.
"We selected QuickScore to underpin our Seven-Step strategic methodology to ensure that strategy was embedded into an operational process that could be monitored every month," says Clive Keyte, Director at Intrafocus "Intrafocus offers consultancy services so, in theory, we should be impartial about software choices. However, we feel so strongly about supporting strategic implementation we have selected a strategic tool on behalf of our clients"
The seven-step process is available as an e-book with a set of
strategic planning overview
pages that briefly looks at each step. The e-book is accompanied by a sample presentation and a sample strategy document.
About Intrafocus
Intrafocus is a business performance management consultancy and software reseller. The software, provided by Spider Strategies®, is a KPI and scorecard management system linking KPIs to goals, strategic objectives, and initiatives or projects.
Intrafocus supplies QuickScore™ and Scoreboard™ to Europe, The Middle East and Africa. QuickScore and Scoreboard are registered trademarks of Spider Strategies®.