Cerritos Real Estate Agent Offers Housing Reports Indicating a Buyer's or Seller's Market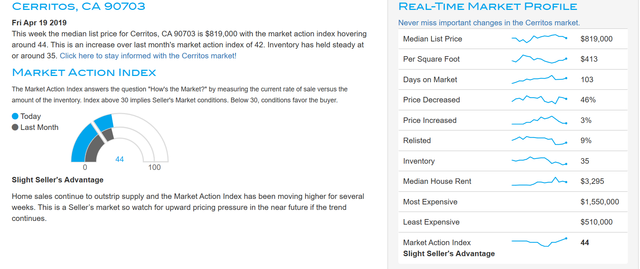 Michael Del Rosario, a licensed
real estate agent in Cerritos, California
associated with Maxim Real Estate Group, Inc. invested in a powerful technology developed by Altos Research to enable potential home buyers and sellers generate real-time real estate market reports and identify if it's a Buyer's or Seller's market in their area.
The market reports look clean, easy to read and mobile friendly. According to Del Rosario, the real estate data shown on the reports are updated weekly to give users the most recent housing market information for a particular area.
What is a Market Action Index (MAI)?
- What caught our attention is the Market Action Index or MAI that is included in the reports. The MAI is a valuable feature that answers the question, "How's the market?" by measuring the current rate of sale versus the amount of inventory.
Most importantly, the MAI indicates whether it's a Buyer's or Seller's market in a particular city or zip code. An index above 30 implies a seller's market while an index below 30 means market conditions that favor home buyers. An index of 30 (which is the base) indicates neither.
Helpful Housing Market Data and Charts
- Real estate data for single family homes and condos shown on the market reports include:
Median List Price
Days on the Market
Price per square foot
Price increase and decrease
Current inventory
Median rent
Current inventory
Most and least expensive
Market Action Index (MAI)
Del Rosario's real estate website (CerritosLiving.com) also has a video that explains how the real estate market reports work. And to show his local housing reports in action, he posted a market report for the
Cerritos Real Estate market
which shows that as of this writing, the real estate market in Cerritos, California has an index of 44 which indicates a slight seller's advantage.
Is the Housing Market in Your Favor?
If you're thinking of buying or selling a home in Cerritos or somewhere in the Southern California area, Del Rosario's real estate market reports should help you determine if the current real estate market favors home buyers or sellers.
To get a free real estate market report for Cerritos, Lakewood, Long Beach or any Southern California location you're interested in, please visit
www.CerritosLiving.com
Email Cerritos Living - Maxim Real Estate Group, Inc.