Military Avionics Convergence with Civil? New free AFuzion Whitepaper and Webinar (May 9, 2019)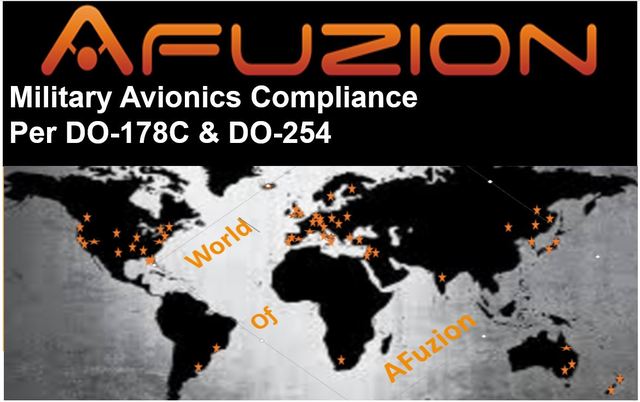 Until very recently, Military avionics development was considered vastly different from Civil development. In 2019, however, a Tipping Point has been reached with worldwide Military avionics developers harmonizing with Civil development over a wide range of previously divergent attributes. To help aviation developers capitalize on this convergence, AFuzion is holding a free technical webinar for Military Avionics Development/Certification on May 2; registrants will receive a new free technical paper from AFuzion which further explains military avionics certification strategies and issues. Register here
Free May 9, 2019 AFuzion Military Avionics Compliance Webinar
.
Military avionics traditionally differed from civil counterparts due to factors including Defense Avionics harsher operating environments, lesser redundancy, cyber-security issues, and safety analysis focusing upon mission success probabilities via military standards. Civilian developers meanwhile used DO-178C, DO-254, and ARP4754A / ARP4761 to optimize safety concerns while proving internal "white-box" design transparency.
However, today's competitive aviation environment means producers increasingly target dual-use avionics for both Military and Civil deployment. At the same time, civil avionics have an improved ability to operate in harsh environments combined with new mandates to meet cyber-security requirements via ED-202A and DO-326A et al. Most surprising to many is the rapidity by which the Military is embracing the Aircraft System Safety ecosystem of ARP4754A and ARP4761/A.
The above evolutionary changes have huge ramifications for avionics producers: developers who fail to leverage these changes will suffer increased competition from those that do. To ensure you're on the Winning side of the rapidly merging Military/Civil development, be sure to register for AFuzion's free technical webinar which explains these trends and remember to read AFuzion's new Military DO-178C and Military DO-254 whitepaper – available only to those who register. This webinar will be recorded for persons unable to view in real-time, but only viewable by those who pre-registered. Register here for free:
Click to Register for Free
.