ChargeAnywhere's QuickSale EMV Application with Castles' SATURN Product Line Now Certified with First Data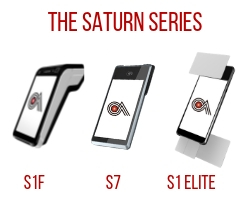 ATLANTA and SOUTH PLAINFIELD, NJ - May 1, 2019 -
Castles Technology International Corp.
, a globally recognized and industry-leading manufacturer of payment hardware solutions, and
Charge Anywhere
, a global provider of encryption services, payment gateway and mobile and integrated payment applications, announced today that the
QuickSale payment application
has achieved
EMV certification with First Data
.
Charge Anywhere has successfully achieved First Data certification with three of Castles Technology's SATURN product family line. Charge Anywhere's new certification to the First Data platform makes immediately available to all merchants and acquirers using the First Data platform via Rapid Connect the QuickSale payment application, which is powered with Castles' SATURN hardware devices -
the SATURN1000F, SATURN1000 Elite and the SATURN7000.
Each of Castles' Android OS-based terminals boast PCI PTS 5.x and EMV L1 and L2 certifications. Charge Anywhere's QuickSale payment application, coupled with the rich features set from Castles' dynamic SATURN payment hardware, provides merchants with a wide range of secure payments acceptance methods, such as chip, contactless and mobile wallet payments acceptance, along with point-of-sale and gateway services. In addition, both Castles and Charge Anywhere integrations will provide the market with remote key injection (RKI) capabilities.
The integration between Castles and Charge Anywhere will offer agents, independent sales organizations (ISOs) and independent software vendors (ISVs) a premier and comprehensive payments solution that provides their merchants the ability to operate and manage their entire business through this joint solution.
"We anticipate many unique advantages within the marketplace by using the SATURN devices to service the ISO and ISV community," said Winston Fong, Chief Executive Officer–North America of Castles Technology International Corp.
The SATURN1000F, SATURN1000 Elite and SATURN7000 are tailored for merchants seeking reliable and secure payment solutions that optimizes the checkout experience. The SATURN family has a futuristic, sleek designs, complimented with an array of dynamic features such as:
5", 5.5" and 7" large capacitive color touchscreens
Rechargeable lithium ion batteries
Open and secure Android OS platform
Versatile payment options - EMV, contactless and MSR
3G/4G LTE, Wi-Fi and Bluetooth communication options
Charging and communication cradles, thermal printers with stylus - optional
Barcode scanner, fingerprint reader, microphone, front/rear cameras - all optional
ETA TRANSACT takes place this week from April 30 to May 2 at the Mandalay Bay Resort and Casino in Las Vegas. Attendees can visit Castles Technology (Booth #1904) and Charge Anywhere (Booth #2517) at their respective booths to learn more about this recent certification achievement, view select SATURN payment hardware solutions and to discuss possible integration partnership opportunities.
ETA TRANSACT attendees are also encouraged to schedule an appointment with senior executives from both Castles and Charge Anywhere by emailing Rezart Uruci, SVP of Sales & Business Development, at
rezart.uruci@castlestech.com
or CEO Paul Sabella, at
psabella@chargeanywhere.com
.
About Castles Technology International Corp.
With 25 years of marketplace experience, Castles Technology has established itself as a top global manufacturer of next-generation card acceptance hardware. Our goal is to create simple, smart and secure payment solutions that provide mobility and flexibility for a diverse range of SMBs in attended and unattended payment environments such as retail, vending, micro markets, restaurants, transportation, finance, lodging and hospitality.
At Castles, we are out to prove that we are a reliable partner who can help businesses maximize their profits with our future-proof point-of-sale devices and best-in-class support offerings. We pride ourselves on crafting payment solutions that are ergonomic, remove burdensome costs and integrates with any SMB's existing POS operation.
Our US headquarters are in Atlanta, Ga. Global headquarters are in Taipei, Taiwan. Castles has 11 regional offices across Asia, Europe, North and South America.
About Charge Anywhere
Charge Anywhere® is a financial technology solutions company providing mobile, cloud and integrated payment applications and payment gateway solutions for enterprises, banks and payment processors. Since 1998, we have been a payment industry leader with an award-winning white-label MPOS platform, P2P encryption services, and retail POS solutions that deliver payment flexibility and security backed by deep global expertise. Our customers include large enterprises, developers, and independent sales organizations (ISOs).
Our solutions range from straightforward off-the-shelf mobile payment functionality to customized integration of payments into enterprise systems worldwide.
Press Contacts
Rezart Uruci
– SVP, Sales & Business Development (Castles Technology International Corp.)
rezart.uruci@castlestech.com
470-273-6350 (Office)
Paul Sabella
– President & CEO (Charge Anywhere)
psabella@chargeanywhere.com
732-417-4447x140 (Office)
Email Castles Technology International Corp.